Jim Harrell, Perspectives in Suffering, Part 3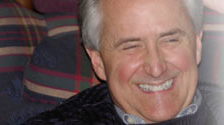 C. S. Lewis said, "God whispers to us in our pleasures, speaks in our conscience, but shouts in our pains. It is his megaphone to rouse a deaf world."

In the final eight minutes of this three part video, Jim Harrell, dying of ALS but living with an eternal perspective, says, "Suffering is the icy cold splash that wakes us up from the complacency of living this life. We truly don't see God and his purpose and strength without suffering, because we just become too comfortable."

If you didn't see the first two parts of the video, check the previous blogs from Monday and Wednesday of this week. Definitely worth it, encouraging and perspective-giving. You may wish to share these with friends who are facing illness and suffering, and those who aren't (since we all will).

In the previous segment Jim said this:

"I've seen more accomplished in the time I've had ALS than in the first fifty years of my life. This illness is a blessing because God is really working on my soul. I'm going into eternity with my soul in a lot better shape than if I hadn't gotten ALS."

The apostle Paul also recognizes God's sovereign purpose in giving him a disease to "work on his soul," as Jim put it:

To keep me from becoming conceited because of these surpassingly great revelations, there was given me a thorn in my flesh, a messenger of Satan, to torment me. Three times I pleaded with the Lord to take it away from me. But he said to me, "My grace is sufficient for you, for my power is made perfect in weakness." Therefore I will boast all the more gladly about my weaknesses, so that Christ's power may rest on me. That is why, for Christ's sake, I delight in weaknesses, in insults, in hardships, in persecutions, in difficulties. For when I am weak, then I am strong. 2 Corinthians 12:7-10

Here's a letter Jim recently received from a friend:

"Jim, I thought of you and your journey and your use of ALS as your second chance and how strong an example and a friend you have been to me and to so many others!

You told me and others how this disease has forced you to rethink priorities and choices but to also treat this as God's gift of a sort of second chance. You have really stretched, and made a great catch of this opportunity God has passed to you as the QB of your life and you are going the distance!!

My challenge is to recognize I have the same opportunity but via a different road right now if I choose to accept the challenge and stay the course!"

(Click here if the video doesn't show up for you.)



I hope you see why I thank God for my brother Jim. We probably won't meet face to face here first, but Jim, my friend, I look forward to spending time with you on the New Earth.