June 09, 2008
"Three Winners" Book Giveaway of the Month: The Grace and Truth Paradox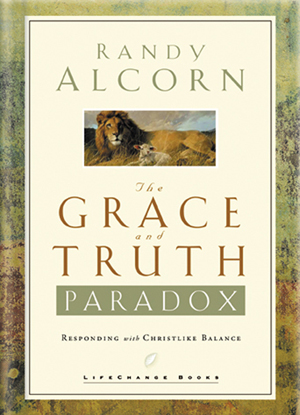 This month we're giving away Randy's book The Grace and Truth Paradox to three randomly drawn winners. This is a great little book with a really big message: learning to exemplify both God's truth and grace in our lives.

What should the world see when it looks at us? Christ. But we've come up with hundreds of principles and thousands of rules attempting to be Christlike. It's too complicated to wrap our minds around. And Christ gets buried under lists, rules and formulas.

John 1:14 boils down for us what it means to be Christlike. It means to be full of only two things: Grace and Truth. Instead of a dozen, this gives us just two balls to juggle. It's succinct, a two point checklist of Christlikeness. Everything we do can and should be measured by the test of grace and truth.


Christlikeness means living by grace and truth, extending both to others. Instead of the world's apathy and tolerance, we offer grace. Instead of the world's relativism and deception, we offer truth.

If we minimize grace the world sees no hope for salvation. If we minimize truth, the world sees no need for salvation. To show the world Jesus, we must offer full-orbed, unabridged truth and grace, magnifying both, never downsizing or apologizing for either.

Click here to read chapter one of the book. (By the way, The Grace and Truth Paradox is also one of Randy's favorite nonfiction books he's written.)

The deadline to enter The Grace and Truth Paradox giveaway is Friday, June 27, and the winners will be announced in a blog post on Monday, June 30.

To enter for your chance to win, leave a comment on this post. Need help posting a comment? For further assistance, contact me at stephanie@epm.org

Please be sure to include your contact information (a blog, or an e-mail address), otherwise we cannot contact you if your name is drawn. However, if you would prefer not to post your e-mail address, please check back on Monday, June 30 to find out if you are a winner.

During June, The Grace and Truth Paradox is also on sale at the Eternal Perspective Ministries website for $5.99 (retail $9.99), as well as The Grace and Truth Paradox Study Guide for $4.17 (retail $6.95).

God bless you as you seek to reflect both His grace and His truth.

Stephanie Anderson
Promotions Director
Eternal Perspective Ministries
www.epm.org
Comments