Aug. 09, 2010
August Giveaway: The Goodness of God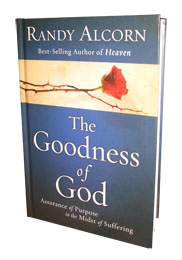 The Goodness of God, a new book from Randy, releases on Tuesday, August 10, and this month three randomly drawn winners will receive a copy of the book. (It is available as an audio book as well, read by Randy. Winners may choose the audio version if they prefer.) You might also like to check out the If God Is Good Study Guide, another product releasing on August 10.
The Goodness of God is a specially focused condensation of If God Is Good, but also includes some new material. It's perfect for those who want a book that contains the heart of the material from If God Is Good in a shorter form (hardcover, 117 pages). And its smaller size makes it a great gift book to give to those who are suffering.
Randy writes, "God doesn't merely empathize with our sufferings. He actually suffers. Jesus is God; what he suffered, God suffered. God paid the highest price on our behalf; we therefore have no grounds for believing he doesn't 'get it.' The drama of evil and suffering in Christ's sacrifice addresses the very heart of the problem of evil and suffering. And one day it will prove to have been the final answer."
How to enter the giveaway:
Leave a comment on this blog post by Sunday, August 29. (If you're reading this post on Amazon or elsewhere, visit Randy's blog to leave your comment.) Need help posting a comment? Contact me at stephanie@epm.org
The three randomly drawn winners will be announced in a blog post on Monday, August 30.
In your entry comment, I'd love for you to share a verse of Scripture that has encouraged you in a time of suffering and pain in your own life. I'll close with a verse that's encouraged me over the last few months through a cancer diagnosis and the ongoing treatments: "I consider that our present sufferings are not worth comparing with the glory that will be revealed in us" (Romans 8:18).
To Him be the glory,
Stephanie Anderson
Promotions Director
Eternal Perspective Ministries
Comments