Sept. 15, 2010
September Giveaway: Heaven Leader's Package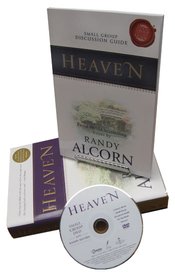 Hi, I'm Stephanie, the promotions director at EPM, and I'd like to let you know about this month's giveaway on Randy's blog. We're giving away three sets of the Heaven Leader's Package, which has everything you need to lead, or personally do, a study on Randy's book Heaven. The package includes one Heaven book, one Heaven Small Group Discussion Guide, and one Heaven Discussion Guide DVD, all together a $34.99 retail value.
Based on Randy's books about Heaven, the Heaven Small Group Discussion Guide is designed to highlight five purposes for successful small groups: fellowship, discipleship, ministry, evangelism, and worship. It includes seven sessions, FAQs, reflection pages, leader notes, and other group suggestions. The DVD includes seven video sessions taught by Randy Alcorn, small group leader tips, worship songs, and bonus footage featuring Bishop George McKinney and Raul Reese. (Additional Heaven Small Group Discussion Guides for your group members are available from your local bookstore, or from EPM for $8.00, retail $10.00.)
Here's how to enter the giveaway:
Leave a comment on this blog post by Sunday, September 26. (If you're reading this post on Amazon or elsewhere on the web, visit Randy's blog here to leave your comment.)
Need help posting a comment? You're welcome to contact me for help at stephanie@epm.org. It has come to my attention that some commenters have had difficulty with the captcha, or "word letter picture" that's required when you're commenting. (We use this to prevent spam on our website.) If it gives you an error, refresh your browser to get a new one and try commenting again. If it continues to give you difficulty, please do email me. I want you to be able to enter!
The three randomly drawn winners will be announced in a blog post on Monday, September 27.
I'd also like to let you know that for the next week, through Thursday, September 30, the package is on sale from EPM for $24.99, a 29% savings on the retail value. After you've completed your study (or if you already have!), we'd love to hear what you thought. Please email your comments to info@epm.org or feel free to include your thoughts in a comment on this post.
When life is difficult, what an encouragement to study about the eternal home the Lord is preparing for us. As Colossians 3:2 says, "Set your minds on things that are above."
For those of you in the Portland, Oregon area, I wanted to let you know that Randy will be doing a book signing and Q & A this Saturday, September 18 at LifeWay Christian Store in Beaverton, Oregon. He'll be doing a signing for his new book The Goodness of God at 11 a.m., a Q & A at 12 p.m., and another signing from 1 p.m. to 2 p.m. Hope you can stop in to say hello!
Happy studying,
Stephanie Anderson
Promotions Director
Eternal Perspective Ministries
Comments