Feb. 08, 2011
Announcing the Winners of the 90 Days of God's Goodness Giveaway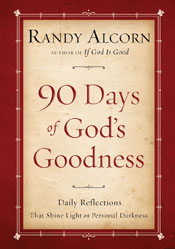 Here are the three randomly drawn winners from the 90 Days of God's Goodness giveaway on Randy's blog.
The three randomly drawn winners of the giveaway are:

1) SD (email begins with sparky423)
2) Alaina (email begins with alainaw30)
3) Raymond (email begins with keimraymond)
All winners, you will be receiving an email from me (Stephanie Anderson) with further instructions.
If you didn't win, you can still pick up your copy of 90 Days of God's Goodness from your local bookstore and online from our website.
Hope to see you at the Facebook party tonight to celebrate the release of Randy's new fiction book The Chasm! It will be held at www.facebook.com/randyalcorn from 5 p.m. to 7 p.m. Pacific time.
Stay tuned to Randy's blog and Facebook for more future giveaways,
Stephanie Anderson
Promotions Director
Eternal Perspective Ministries
www.epm.org
Comments