March 09, 2011
The Winners of the Managing God's Money Giveaway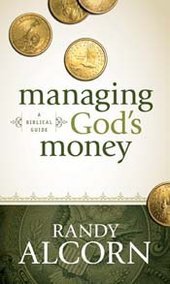 Here are the three randomly drawn winners from the Managing God's Money giveaway on Randy's blog:
1) Scott Newman (email begins with snewman)
2) Karen Bevis (email begins with pumkinbkay)
3) John (email begins with jwjwalker)
All winners, you will be receiving an email from me (Stephanie Anderson) with further instructions.
If you didn't win, you can still pick up your copy Managing God's Money from your local bookstore and online from our website. Also, through Sunday, Randy's other giving and stewardship books are on sale for 50% off the retail prices (Money, Possessions & Eternity, The Law of Rewards, and The Treasure Principle.)
Thanks to all who entered!
Stephanie Anderson
Promotions Director
Eternal Perspective Ministries
www.epm.org