by Kathy Norquist, Randy Alcorn's assistant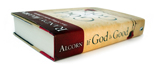 I never realized how difficult and time-consuming it is to write a book until I started working for Randy many years ago. Observing the numerous stages of a book before it goes to print has given me a new appreciation for the work of an author. And what fun for Randy when he receives the first copy of his latest book in the mail—before it ever hits the bookshelves. It's somewhat like the anticipation of the birth of a child and the day finally arrives!

Randy loves the fact that he ...