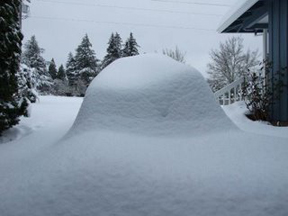 Here in our part of Oregon, the snow is melting off as quickly as it came. But we had about ten days in the middle when it was a winter wonderland—making December 2008 our snowiest month since January 1950, four years before I was born.

This big snowy blob in our driveway is our Subaru wagon. Since I have a ten foot commute to my office, attached to our garage, transportation wasn't an issue.

They say Gresham, where we live, was hit harder than any part of the greater Portland area. A lot of Christmases merge together in ...