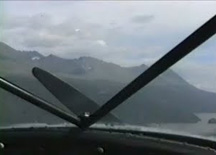 Today is the twentieth anniversary of an unforgettable experience.

In 1989, I'd spoken at a missionary conference in Palmer, Alaska. Afterward, we were headed north to Galena, on the Yukon River, by small plane. My ten-year-old, Karina, and I were flying with our missionary friend, Barry Arnold, and his daughter, Andrea, also ten. Nanci and our daughter Angie were leaving with the rest of Barry's family an hour later in another plane, tak­ing a different route.

Well into the flight we were cruising over a beautiful waterfall at three thousand feet, when suddenly the engine lost power ...