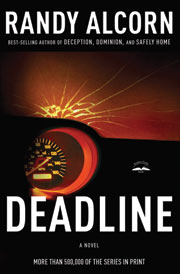 Here's the winners from this month's book giveaway! Each of the three winners will receive a signed copy of Deadline.

The randomly drawn winners are:

1) trumanfalkner
2) bdsolum [at] paulbunyan.net (posted as anonymous)
3) btylerellis [at] hotmail.com (posted as anonymous)

We also would like to give away some more copies of Deadline to a few others that entered the giveaway:

Marla Taviano
Deborah-Ann Archary
Bruce & Kathi
Clif

All winners, please e-mail me as soon as possible at stephanie@epm.org with your mailing address and who you would like the book signed to.

Thank you ...