The Dominion giveaway is now closed.

February is Black History Month, so we are giving away three signed copies of Randy's novel Dominion, a dramatic story of spiritual searching, racial reconciliation, and hope.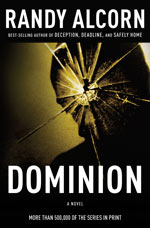 Clarence Abernathy, an Oregon columnist and suburban middle-class black, is dragged into a world of inner-city gangs, drugs, violence and racial conflict. Clarence's anger at injustices he cannot control pulls him onto turf that becomes more dangerous by the moment. Encouraged by fellow columnist Jake Woods, Clarence forges an unlikely partnership with Ollie Chandler, a white homicide detective. As the case unfolds questions of racial ...