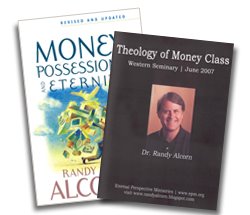 Here are the winners from this month's giveaway! Each of the three winners will receive Randy's Theology of Money DVD class as well as a copy of the book Money, Possessions and Eternity.

The randomly drawn winners are:

1) Don Helfer
2) ericdylan2-bookstore
3) The Farmer's Wife

All winners, please e-mail me at stephanie@epm.org with your mailing address.

All money and giving related books, including Money, Possessions and Eternity and The Treasure Principle, are on sale from EPM at a 40% discount through the end of April. We're also having a gift book ...