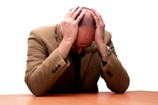 South Carolina Governor Mark Sanford has joined a long line of leaders, both secular and Christian, who have committed adultery.

Someone suggested, in light of this, that I post about fleeing and resisting sexual temptation. First, consider this from God's Word:

Do not lust in your heart after her beauty or let her captivate you with her eyes, for the prostitute reduces you to a loaf of bread, and the adulteress preys upon your very life. Can a man scoop fire into his lap without his clothes being burned? Can a man walk on hot coals without his feet ...