The giveaway is now closed. Be sure to check back on May 4 for the next giveaway.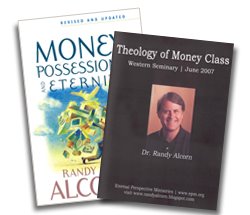 With today's challenging economy, it's time to rethink our perspectives on money and possessions—to see them as God's provision for our good, the good of others, and his glory.

This month, three randomly drawn winners will receive Randy's Theology of Money DVD class along with Money, Possessions and Eternity.

The Theology of Money Class is a 6-DVD set (12 one-hour sessions) of Randy Alcorn teaching at Western Seminary. The class explores the biblical doctrine of money and possessions ...