EPM Prayer Updates
Occasionally Randy sends out specific prayer requests related to his writing and speaking ministry. You can sign up to receive them by email or read them online.
September 5, 2012
Dear Prayer Partners,
Fall is quickly approaching, and with it comes projects and events that will keep Randy and our EPM staff busy and in need of prayer for wisdom, direction and strength to complete the tasks the Lord has given us to do. One of those tasks is updating one of Randy's out of print books and offering it as an ebook. (More details in the future!)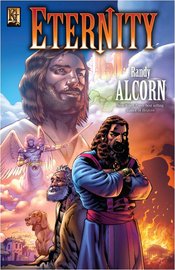 This month Randy will be focusing on his main writing project, a nonfiction book dealing with happiness, and where we should be seeking it. Please pray for clear thinking and direction from the Lord as well as for health and stamina for long writing days. Speaking of writing projects, we recently received the final cover for the Eternity graphic novel (if you're not familiar with the term, that's an extended comic book form). It's a story about the rich man and Lazarus from Luke 16, and was illustrated by a talented artist who has worked with Marvel Comics.
Randy writes, "One of the things I love about this project is that though this is a book everyone can enjoy, there's a whole demographic—meaning people of a certain type—who read graphic novels. I'm excited to be able to reach that audience. These people may have facial jewelry and tattoos and may be aged anywhere from 12 to 15 years old on up to their twenties or early thirties. They aren't people you would expect to pick up most of the books I've written. I just love the idea of junior high, high school, and college-aged young people, and older people too, being drawn to a beautifully illustrated graphic novel that contains the gospel, and is based on a powerful story that Jesus told."
Since Christian graphic novels like Eternity have the potential to reach an entirely new group of people for Christ, pray for the eternal impact of the book. Its expected release date is in 2013. (Lord willing, we'll be sharing more previews and details about the book on Randy's blog in the months to come.)
Next month, October 2-4, Randy will be speaking at The Cove, Billy Graham's mountain retreat center in Asheville, NC on "Four Central Truths of a Biblical Worldview." You can pray for Randy as he prepares for what will be a very busy few days of speaking and connecting with those attending. (Learn more at www.thecove.org/Alcorn. If and only if it's what God has for you, Randy would love to see you there!) Also, just before The Cove he'll be in Chattanooga to record television programs with John Ankerberg on Monday, October 1. Randy and Nanci send their greetings. Thanks again for interceding for the Alcorns and for our ministry.
P.S. And could I add a personal request as well? My 90-year-old father died on August 28 and the memorial service is Friday, September 14, 1:00 p.m., PT. He grew spiritually in the last few years of his life and has left a lasting legacy. I would so appreciate your prayers that the gospel would be clearly shared with the many unbelievers who will be there. Thank you so much.
Kathy Norquist
Executive Assistant to Randy Alcorn
Eternal Perspective Ministries
O God, make us desperate, and grant us faith and boldness to approach Your throne and make our petitions known, knowing that in doing we link arms with Omnipotence and become instruments of Your eternal purposes being fulfilled on this earth. —Nancy Leigh DeMoss