Behind the Scenes at EPM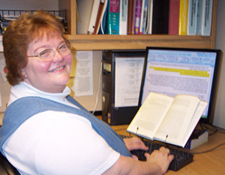 When Randy Alcorn does research for a new book, Bonnie Hiestand gets to work.
You won't see her name alongside his on a book cover, but for Bonnie, behind the scenes is right where she wants to be.
Bonnie has worked for Randy on and off for over 30 years, originally as his secretary when he was a pastor at Good Shepherd Community Church near Gresham, Oregon. She has worked as a graphic designer and secretary for Eternal Perspective Ministries since 1997.
When Randy gets ready to write another book, he often reads several dozen books by other authors to research his topic—like the 140 books he read before writing Heaven.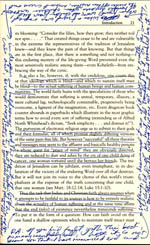 It is Bonnie's responsibility to type the dozens of quotes he underlines and the notes he writes circling around book margins and on scraps of paper, a job she lovingly calls "deciphering hieroglyphics." She's even interpreted a note scrawled on a restaurant napkin.
"When Randy reads a book for research, I read it too," Bonnie says. She especially enjoyed typing Randy's notes when he was doing research for his murder mystery novel Deception.
"When I type up Randy's research information from the book he reads, I get to read these deep books, by people like John Piper and Charles Spurgeon."
As the daughter of a Baptist pastor, Bonnie grew up knowing she wanted to support others in ministry. "I enjoy enabling other people to be up front," she says. "I feel that's where God has gifted me."
Walking into her office, it's hard to miss the small handmade quilt hanging above her desk or the tole-painted vase sitting on her shelf. A visit to her country-style home reveals there is a quilt or wall hanging she's made in every room of her house, even the bathroom. Using her artistic ability, she admits, is one of her favorite pastimes.
Stephanie Anderson is the communications and graphics specialist at Eternal Perspective Ministries.