Eyes on Eternity: The Treasure Principle, Chapter 3
Eyes on Eternity: Treasure Principle, Chapter 3 from Randy Alcorn - EPM on Vimeo.
Randy Alcorn teaching on the Treasure Principle, a clip from: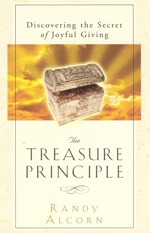 The Treasure Principle DVD, available from EPM
Discover the joy of giving! The Treasure Principle, Randy Alcorn's bestselling book, is wonderfully brought to life through this dynamic video program, which will help you experience how material freedom and radical generosity can revolutionize your world.
This video presentation, hosted by Randy Alcorn and Ryan Rush, is filled with dynamic graphics, special effects, reenactments, historical photographs, and interviews with 'generous givers' to help you discover the astounding secret: how joyful giving brings God maximum glory and His children maximum pleasure. Priceless treasure is within your reach. And with it, liberating joy.
This DVD (comprised of six 30-minute sessions) is perfect for churches, small groups, Bible Studies, Sunday school classes, etc.
"THE TREASURE PRINCIPLE will change your life!" — Howard Dayton, Co-CEO Crown Financial Ministries