Oct. 11, 2011
Courageous Fatherhood Msg DVD
List Price:

$5.00

Your Price:

$5.00

You Save:

$0.00 (0%)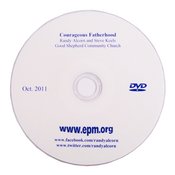 In this 30-minute DVD, Randy challenges men to be courageous fathers, and shares Scripture and examples.
DVD of Randy Alcorn speaking with Pastor Steve Keels at Good Shepherd Community Church on Courageous Fatherhood. Great for group use, or personal study.
This is an EPM product, listed at less than market value, in keeping with our low price policy.
Product Details