March 15, 2010
Tell Me About Heaven
List Price:

$19.99

Your Price:

$13.99

You Save:

$6.00 (30%)

Quantity Price:

(Buy 36+ @ $11.99 each)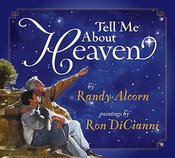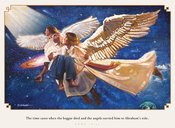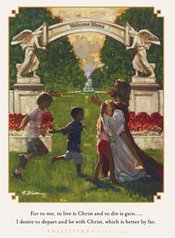 Gently guides adults and children to see what the Bible really has to say about Heaven and those who live there.
With paintings by artist Ron DiCianni.
Gently guides adults and children to see what the Bible really has to say about Heaven and those who live there.

Ten-year-old Jake struggles to understand his grandma's death. But as he spends two weeks at his grandfather's home, he is able to receive answers to his questions about Heaven.

As Jake and Grandpa fish, watch the stars, and take long walks, Grandpa shares what the Bible says about the reality and beauty of Heaven. As Jake learns the truth about Heaven, he begins to better understand and accept his grandmother's death.

As readers uncover the truths in the dialogue between Grandpa and Jake, they will better appreciate the home that awaits all who place their faith in Christ.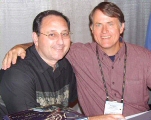 Tell Me About Heaven features beautiful paintings by gifted artist Ron DiCianni. If Ron's style of painting looks familiar, it is because you might have seen his painting Safely Home, which was featured in Randy's novel, also titled Safely Home.
Product Details
Hardcover
64 pages
10.1 x 9.2 x 0.6 inches
Quantity Pricing
Available in case lots. 36 books per case, discounted price of $12.00 per book.
To receive discounted pricing, please enter the quantity of books as 36 or more.
What is the difference between the two illustrated children's storybooks about Heaven: Wait Until Then and Tell Me About Heaven?
What both books have in common is a grandfather and grandson discussing Heaven. From there, the differences are pretty major. Wait Until Then is a children's picture book of 2,000 words. Tell Me About Heaven has 14,000 words, is seven times longer, and is long enough to be a sustained story.

Wait Until Then focuses on whether a handicapped boy and a weak grandfather, who uses a walker and is dying of cancer, will one day play baseball. The boy's disability is central to the book, and his parents and siblings are all an important part of the story. Tell Me about Heaven is about a different boy (not handicapped), a different grandfather (not sick or dying), and set out in the country with just the boy and grandfather. It doesn't involve baseball and has many different settings.

Wait Until Then has a traditional "each painting captures the story" approach. Tell Me About Heaven's art is not illustrative of the story itself but of certain concepts discussed by grandfather and grandson. They are more like illustrations of the book's theology, not immediate scenes (except the book ends).

It is Randy's hope that both books will serve as resources for families as they teach their children truths about Heaven.
Translated Versions
Click here to view a list of translated versions of this book, as well as other foreign editions.
Goodreads reviews of Tell Me About Heaven
See all reviews from Goodreads.com