March 15, 2010
Treasure Principle Study Guide
List Price:

$6.95

Your Price:

$5.56

You Save:

$1.39 (20%)

Quantity Price:

(Buy 10+ @ $4.17 each)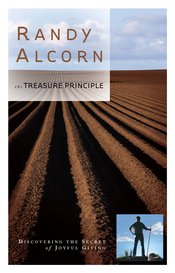 Includes four weeks of Bible study for individuals to complete in five daily segments.
For many people, life is like a treasure hunt. They spend their whole lives searching for riches and possessions they think will make them happy. Yet they are never satisfied.

Jesus knew that only heavenly treasures can satisfy. That's why He warned people not to collect treasures on earth but to discover the joy of collecting treasures in Heaven. His teachings show that you can't take it with you, but you can send it on ahead.

Highlighting the infinite value of heavenly treasures over earthly ones, this study will teach you how to collect treasures that will last for all eternity. You will acknowledge God's ownership of all things while accepting your role as His money manager. Six biblical keys will guide you to use your money and possessions to make deposits in heaven. As you get a glimpse of the life-changing joy of giving, you will discover the hidden treasure that awaits those who invest in eternity. And you'll know why you could never be content with less.

The Treasure Principle includes four weeks of Bible study for individuals to complete in five daily segments. A leader guide at the back of the book provides plans for a four- or five-session group study.
Product Details
Quantity Pricing
Discounted price of $4.17 available when ordering 10 or more study guides.
To receive discounted pricing, please enter the quantity of study guides as 10 or more.
Translated Versions
Click here to view a list of translated versions of this book, as well as other foreign editions.