Nov. 21, 2011
Wallet Sexual Purity Cards
List Price:

$1.00

Your Price:

$1.00

You Save:

$0.00 (0%)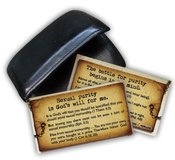 Pack of glossy, card stock, wallet-sized cards. The card reads, "Sexual purity is God's will for me." The other side says, "The battle for purity begins in my mind." Both sides include Scripture.
Product Details
Glossy, cardstock, wallet-sized cards

Pack of 20 cards for $1.00 ($0.05 each)
This is an EPM product, listed at less than market value, in keeping with our low price policy.