Sale Items and Promotions
DOUBLE FLASH SALE!
Today only, Randy's beloved novel "Safely Home" and his words of wisdom and encouragement to faithfully persevere in times of suffering in "The Goodness of God" are $7.00 each! But act now, this offer expires at midnight tonight, July 22nd, PDT.
Is this the day I die?
Quan stiffened at the shout behind him. "You meet in the night like the criminals you are. How dare you defy the law? In three minutes we will shoot every man, woman, and child who does not declare himself loyal to the people rather than the gwelios, foreign devils.
American business executive Ben Fielding has no idea what his brilliant old college roommate is facing in China. But when they're reunited in China after twenty years, the men are shocked at what they discover about each other.
Thrown together in an hour of encroaching darkness, watched by unseen eyes, both must make choices that will determine not only the destinies of two men, but two families, two nations . . . and two worlds.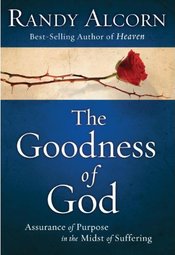 In this specially focused condensation of Alcorn's If God Is Good…: Faith in the Midst of Suffering and Evil, we're continually guided into a deeper glimpse of God's loving ways and higher purposes.
Through Pain and Tears… Finding a Way to God's Heart
For those times when we're wounded by broken trust, assaulted by disease, or victimized by evil—or when we're crushed to see such things happen to people we love—Randy Alcorn offers something solid to hold onto.
Be the first to hear about EPM's specials and promotions by subscribing to our eNews.