Karen Coleman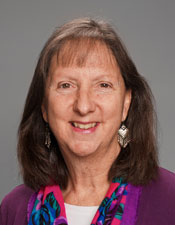 Karen's position as a Ministry Assistant involves many interesting projects which mirror what EPM is zealous about—God's Word and His people, especially the needy—and she enjoys the variety involved in her work.
She and her family spent 23 years in Cameroon, West Africa involved in Bible translation and missionary care. She has two sons—Zac completed two years of service on the Logos Hope ship, a floating book fair that distributes many of Randy's books around the world, even in places where Christian missionaries aren't welcomed. He met his bride Hannah, who was also serving on the ship, and they are seeking God's leading for ministry together, perhaps back in Africa. Karen's younger son Noah is studying International Agricultural Development and hopes to use his education to minister in the developing world in the future.
Karen is coming full circle in her role at EPM. Before going to Africa and before EPM began, she served as Randy's assistant when he was a pastor.