Scott Klusendorf's The Case for Life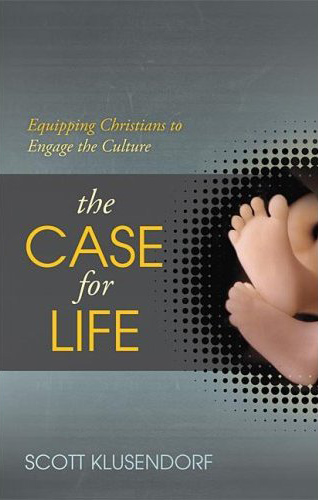 Scott Klusendorf's new book, The Case for Life: Equipping Christians to Engage the Culture, releases today.
After I was sent the prepub manuscript of this book, and asked to endorse it, I wrote, "Scott Klusendorf has produced a marvelous resource that will equip pro-lifers to communicate more creatively and effectively as they engage our culture. The Case for Life is well-researched, well-written, logical, and clear, containing many pithy and memorable statements. Those already pro-life will be equipped; those on the fence will likely be persuaded. Readers looking to speak up for those who cannot speak for themselves will find much here to say. I highly recommend this book."
J. P. Moreland, Biola professor, says, "The Case for Life is a veritable feast of helpful information about pro-life issues, the finest resource about these matters I have seen. It is accessible to the layperson, and it lays out a strategy for impacting the world for a culture of life."
Chuck Colson, founder of Prison Fellowship, says, "Scott Klusendorf takes the insights and methods for defending the right to life he so effectively communicates in his teaching presentations into a book that provides a clear and cogent biblical rationale for the sanctity and dignity of life, born or unborn. This is a great tool for the layman who knows he or she is pro-life, but doesn't understand the presuppositions on which his or her beliefs are based or who doesn't feel equipped to defend or discuss the issue with others."
To learn more about Scott, see the Life Training Institute. Browse more of my prolife articles and resources, as well as my books Pro-Choice or Pro-Life: Examining 15 Pro-Choice Claims, Why ProLife? and ProLife Answers to ProChoice Arguments at epm.org.
And speaking of the unborn, a friend recently sent me a link to WebMD, which has put together a beautiful photo slideshow of unborn babies at each stage of pregnancy. I love it when secular sources, without an agenda, simply show things as they are, making a powerful prolife statement based on obvious realities.
Photo by Jonathan Borba on Unsplash