Anticipating What God Has Promised: "Life Promises for Eternity"
The promises are the Christian's Magna Carta of liberty; they are the title deeds of his heavenly estate. Happy is he who knows how to read them well and call them all his own. —Charles Spurgeon, "Obtaining Promises," Sermon 435
In this video, I share more about my new book Life Promises for Eternity, which contains more than 100 brief readings on the topic of Heaven and the New Earth:
Randy Alcorn Talks About His Book Life Promises For Eternity from Randy Alcorn - EPM on Vimeo.
Here's an excerpt from the Life Promises for Eternity audio book: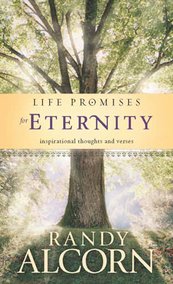 "Set your hearts on things above, where Christ is seated at the right hand of God" (Colossians 3:1). This is a direct command to set our hearts on Heaven and to contemplate what God has promised us. And to make sure we don't miss the importance of a heaven-centered life, the next verse says, "Set your minds on things above, not on earthly things." God commands us to set our hearts and minds on Heaven.
To long for Christ is to long for Heaven, for that is where we will be with him. God's people are "longing for a better country" (Hebrews11:16). We cannot set our eyes on Christ without setting our eyes on Heaven, and we cannot set our eyes on Heaven without setting our eyes on Christ. Still, it is not only Christ but "things above" we are to set our minds on.
Anticipating Heaven doesn't eliminate life's pain, but it lessens it and puts it in perspective. Meditating on God's eternal promises is a great pain reliever. It reminds us that suffering and death are temporary conditions. Our existence will not end in suffering and death—they are but a gateway to our eternal life of unending joy. The biblical doctrine of Heaven is about the future, but it has tremendous benefits here and now. If we grasp it, it will shift our center of gravity and radically change our perspective on life. This is what the Bible calls "hope," a word used six times in Romans 8:20-25, the passage in which Paul says that all creation longs for our resurrection and the world's coming redemption.
Don't place your hope in favorable circumstances, which cannot and will not last. Place your hope in Christ and his promises. He will return, and we will be resurrected to life on the New Earth, where we will behold God's face and joyfully serve him forever.
From Eternal Perspective Ministries

Inspired by the best-selling book Heaven, Life Promises for Eternity provides readers with more than 100 brief, inspirational readings on the topic of Heaven and the New Earth. Each reading is coupled with a trio of complementary Bible verses designed to further illuminate what the Bible has to say about the extraordinary place we will someday call home. A beautifully designed two-color, padded gift book with a ribbon bookmark, Life Promises for Eternity is an ideal gift for anyone who has ever wondered, What will Heaven really be like?