An Invitation to Spend Three Days Learning What God's Word Has to Say about Heaven
In this three-minute video, I share about an upcoming graduate course on Heaven I'll be teaching at Corban University in Salem, Oregon May 8-10, 2012. The course is available for graduate credit, but anyone is welcome (and encouraged) to come audit it.
"Spend Three Days in Heaven" Class from Randy Alcorn - EPM on Vimeo.
Have you ever wondered . . .
What Heaven is really going to be like?
What we will look like?
What kind of relationships we'll have with friends and loved ones?
Won't Heaven get boring after a while?
What we will do every day?
Will we have real bodies, and eat and drink and work and read and perform music and create art and play sports?
For many people—including many Christians—Heaven is a mysterious word describing a place that we can't understand and therefore don't look forward to. But Scripture tells us differently. What we otherwise could not have known about Heaven, God says he has revealed to us through his Spirit (1 Cor. 2:10).
God tells us about our eternal home in his Word, not so we can shrug our shoulders and remain ignorant, but because he wants us to understand and anticipate what awaits us and those we love.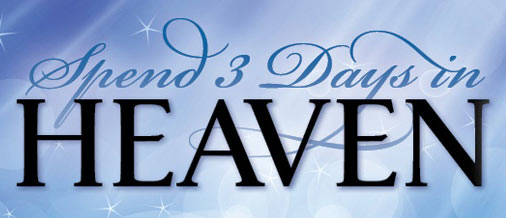 The three-day course, titled "Spend 3 Days in Heaven", will help you gain a better understanding of our eternal dwelling place. We'll talk about the pervasive myths and misconceptions about Heaven, and seek to answer from Scripture the most frequent questions about life after the resurrection, on the New Earth.
During the course, we'll address the central question of whether there is a continuity or discontinuity between our present life on earth and our future life in Heaven. We'll also discuss the question of what difference it makes whether we set our minds on Heaven while we still live on earth.
The course will give special emphasis to the New Earth as God's central eternal dwelling place, and the place we will live and serve King Jesus. We'll explore together the far-reaching redemptive implications of Christ's work, culminating in a resurrected universe delivered from the curse.
My hope is that this course will bring eternity to light in a way that will surprise you, spark your imagination, draw you closer to Jesus, and change how you live today.
For those of you interested in the credit, the course is worth 2 graduate credits which can be transferred to most colleges. (Cost is $600, almost an 85% discount off the regular cost.) The audit option is available for $450. Pastors who are interested in promoting the class and either auditing it or taking it for credit can receive a special discounted rate. (See the registration page for more information.)
Corban will also be providing lunch and refreshments for all three days of the course. Their site also lists some nearby hotels that will provide reduced rates if you mention the Corban discount.
As a friend of EPM, our ministry invites you to use promotion code epm675 to receive an additional $67.50 discount off your registration. Register at www.3daysinheaven.com. (More questions? Contact Corban University, www.corban.edu, or 503-375-7173.)
I look forward to this class, and hope to see some of you there.