Craig Groeschel on the Big &%#*! Deal about Profanity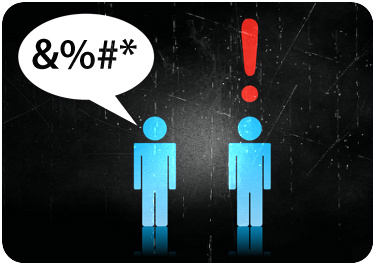 I have had the exact experience Craig Groeschel is talking about in his excellent blog post "What's the Big &%#*! Deal about Profanity?": Christians enthusiastically recommending movies without qualification. I have learned to NEVER watch a movie based on someone's recommendation, even if I asked about sexual content and language, as I am often reassured, "Oh, no, it's totally clean," only to find it isn't anything close to totally clean.
Craig's cautions apply not just to movies but also to novels. When reading, I am careful to avoid sections depicting immorality, often skipping to the beginning of the next chapter (especially when listening to an audio book), knowing I am missing things important to the plot development, but also knowing that honoring Christ by resisting temptation matters a lot more than following a plot. I don't read any authors known for such depictions, since if I have to skip a lot it clearly means I should just skip reading the book in the first place.
But I confess that I have become more desensitized to profanity. And while one f-bomb used to be enough to keep me from watching or reading further, now I tolerate more. Some consider this a sign of increased Christian liberty, deliverance from the snares of legalism. In my heart, I fear it is a sign of decreased holiness, and disobedience to God's Word. (Some believers need to learn that there are many other sins to avoid besides legalism. Self-righteousness is dishonoring to Christ, but so is lust, careless and dishonoring speech, and conformity to the world, including being entertained by what God hates.)
Before you read Craig's blog, read the following from Ephesians 4-5. I guarantee it will cause you to take more seriously the words that follow from Craig.
22 You were taught, with regard to your former way of life, to put off your old self, which is being corrupted by its deceitful desires; 23 to be made new in the attitude of your minds; 24 and to put on the new self, created to be like God in true righteousness and holiness.
27 …do not give the devil a foothold… 29 Do not let any unwholesome talk come out of your mouths, but only what is helpful for building others up according to their needs, that it may benefit those who listen. 30 And do not grieve the Holy Spirit of God, with whom you were sealed for the day of redemption….
3 But among you there must not be even a hint of sexual immorality, or of any kind of impurity, or of greed, because these are improper for God's holy people. 4 Nor should there be obscenity, foolish talk or coarse joking, which are out of place, but rather thanksgiving. 5 For of this you can be sure: No immoral, impure or greedy person—such a person is an idolater —has any inheritance in the kingdom of Christ and of God. 6 Let no one deceive you with empty words, for because of such things God's wrath comes on those who are disobedient. 7 Therefore do not be partners with them.
8 For you were once darkness, but now you are light in the Lord. Live as children of light 9 (for the fruit of the light consists in all goodness, righteousness and truth) 10 and find out what pleases the Lord. 11 Have nothing to do with the fruitless deeds of darkness, but rather expose them. 12 It is shameful even to mention what the disobedient do in secret. 13 But everything exposed by the light becomes visible—and everything that is illuminated becomes a light.
15 …Be very careful, then, how you live —not as unwise but as wise, 16 making the most of every opportunity, because the days are evil. 17 Therefore do not be foolish, but understand what the Lord's will is. 18 Do not get drunk on wine, which leads to debauchery. Instead, be filled with the Spirit, 19 speaking to one another with psalms, hymns, and songs from the Spirit. Sing and make music from your heart to the Lord, 20 always giving thanks to God the Father for everything, in the name of our Lord Jesus Christ.
What's the Big &%#*! Deal about Profanity?

Craig Groeschel, Lifechurch.tv

Recently, when I asked a friend for recommendations of a good movie to rent, he responded enthusiastically, "Have you seen The Hangover? It may be the funniest movie I've ever seen!" Excited about a potentially great comedy, I asked a couple of my staff members about the movie. They too had seen it and said it was a riot and must see.

Since I wasn't sure what The Hangover was rated, my last check point involved doing a little research to see if this was a movie for the whole family or one just for me and my wife to watch together. What I discovered floored me.

According to www.screenit.com, this comedy has more than its fair share of non-family-friendly scenes, intense language, and sexual situations. The rough spots include 91 different variations of the f-bomb (apparently it can function as noun, verb, adjective — maybe even a conjunction for all I know), 41 excretory words, 14 references to a person's behind, 13 "hells," and nine slang terms for male anatomy. To top it all off, this hilarious movie has 31 different versions of taking God's name in vain.

When I told my friends and staff members that the movie had 91 f-bombs, which averages out to approximately one version of the "f" word per minute, they were all shocked. "Really? I didn't even notice" was the most common response.

Really… you didn't notice one "f" word each minute?
Read the rest of Craig's article.