The Duggar Family and Life United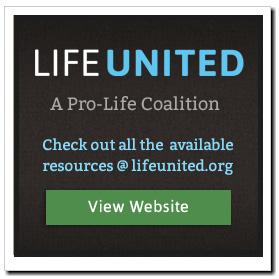 I've shared before in a blog my appreciation for the Duggar family, featured on the TLC reality show 19 Kids and Counting. I met Jim Bob and Michelle Duggar in 2011 at ICRS (the annual Christian bookseller's convention). They struck me as wonderful, Christ-loving people. Our brief conversation was a delight.
One of their recent projects is being part of Life United (www.lifeunited.org), a prolife website dedicated to educating people with the reality of abortion in our generation, and encouraging them to do something about it. Lifenews explains how the family's desire to start the project began:
Michelle recalls, "Our family visited the Holocaust Museum in Washington, DC. The designers of the museum did an incredible job telling the tragic story of over 6 million Jews who were brutally executed. The purpose of the museum is to educate others on what happened, so that hopefully, something like this will never happen again! A couple of weeks after we went to the Holocaust Museum it dawned on us that there is a holocaust taking place right here in America!"

The holocaust she referenced is the epidemic of abortion in America. After that trip the Duggars began to pray about what they could do to help end abortion. Their first call was to Dan Pennell, CEO of WMtek, a Fort Pierce, FL based web development company, who immediately caught the vision. Working with Jim Bob Duggar and Mathew Staver of Liberty Counsel, Dan formed the powerful coalition of pro-life groups that has become LifeUnited.
I encourage you to check out the resources of www.lifeunited.org and share them with your family, friends, and church.