A Happy Invitation to Invest in Eternity
Many thanks to all of you who've supported this ministry through your prayers, your giving, your time or your interest in who we are and what we do. Nanci and I are deeply grateful to God and to you. —Randy
At Eternal Perspective Ministries, we're dedicated to investing in eternity and joyfully helping others do the same. This perspective is the heartbeat behind all we do.
But we can't do it alone! Since 90% of Randy's royalties are given away to other worthy ministries, and only 10% given to EPM (to help offset the costs related to writing and editing the books), we're not a self-supporting ministry. (If you wonder why we do this, learn more here.) Therefore, we're deeply grateful for the generous partnership of our donors, which allows us to continue our work for Christ. Your eternal investment in EPM's general fund assists us in the following ways:
- Enables us to continue providing quality, Christ-centered content. Through our ever-expanding audience on Randy's blog, our website, and social media, we have the opportunity to provide free resources on Heaven, sexual purity, suffering, and other topics that will help readers in their walk with Christ. We're also seeking to provide more resources in other languages so we can impact readers worldwide.
- Helps fund Randy's writing of books, and the EPM staff's work as they assist him. Writing a book is a team effort. Not only does much work from Randy go into researching and writing a book, but also various EPM staff are involved in the editing process (as well as others who free Randy up by taking care of numerous ministry responsibilities). Through these books, many are introduced to Christ and others are encouraged to seek a deeper walk with Him. We receive many testimonies of this. One reader wrote:
My sister had cancer and she passed away a year ago. My preacher gave her your book Heaven because she was terrified of passing away. This book brought her to Christ and calmed her fears. She passed in her sleep peacefully and she was ready. I thank you for this book! It gave me a biblical view of Heaven.
- Supports EPM's staff in reaching out in Jesus' name to all those we come in contact with. Each month our staff has on average over 200 meaningful interactions with those contacting our ministry for help, encouragement, and resources. Each phone call, email, and social media comment is an opportunity to reflect the grace and truth of Christ.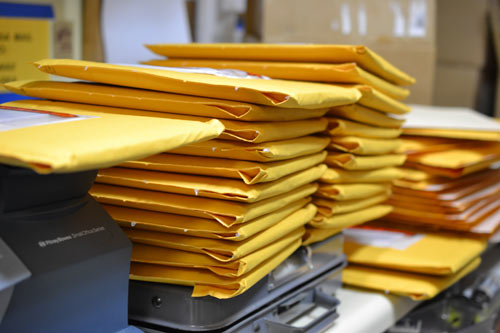 - Provides for our ministry to prisoners. Each year, EPM sends thousands of books to inmates in facilities across the United States. This past year alone we sent over 6,400 books. Sharon, one of our staff members, personally responds to letters from prisoners. This outreach to those who are often forgotten by society is bearing much fruit for the kingdom! One prisoner wrote to say, "I am in an 8-man tank and we take turns reading your books. They are so life changing and spiritually touching. Some have even been saved based on some of your books."
So we invite you to consider partnering with us in spreading the "good news of happiness" (Isaiah 52:7). Every gift, no matter the size, is an opportunity to make an eternal investment. We pray that doing so will bring God much glory and you great happiness.
If you'd like to make a year-end, tax-deductible donation to EPM, please note that donations postmarked no later than December 31, or received online by 11:59 p.m. PT on December 31, will be included on this year's tax receipts. If God lays it on your heart to give to our ministry, or to pray for us (the greatest gift you can offer), know that we are grateful.
With great appreciation,
Randy & Nanci Alcorn, and the Staff of Eternal Perspective Ministries
P.S. Here's a creative 90 second video you might enjoy, about investing our treasures in Heaven. And if you'd like to learn more about EPM's core mission, beliefs and finances, visit our site.