Christmas gifts for her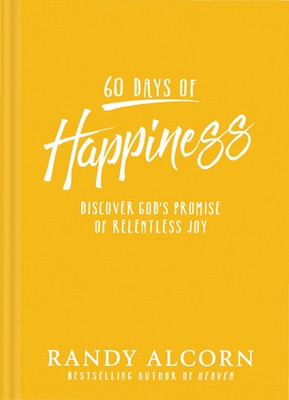 60 Days of Happiness
When it comes to happiness, most of us have the same questions. Why can't I be consistently happy? Is it wrong to be happy when there's so much pain and suffering in the world? In 60 Days of Happiness, author Randy Alcorn shares sixty timeless devotions demonstrating that God not only wants us to be happy in him and enjoy his gifts, he commands and empowers us to do so. (purchase)

50 Days of Heaven
If you've always thought of Heaven as a realm of disembodied spirits, clouds, and eternal harp strumming, you're in for a wonderful surprise! God has put eternity in our hearts. Now Randy Alcorn brings eternity to light in 50 inspiring and thought-provoking meditations that will forever change the way you think about the spectacular new universe that awaits us. (purchase) Also available on audio CDs.

90 Days of God's Goodness
Here are 90 daily reflections dealing with virtually every aspect of the single biggest question that blocks people's faith in God: If God is good, why is there so much evil and suffering? Randy Alcorn offers faith-building encouragement and comfort from God's goodness. (purchase) Also available on audio CDs.
Happiness
In Happiness, noted theologian Randy Alcorn dispels centuries of misconceptions about happiness and provides indisputable proof that God not only wants us to be happy, He commands it. The most definitive study on the subject of happiness to date, this book is a paradigm-shifting wake-up call for the church and Christians everywhere. (purchase) Also available on audio CDs.
Help for Women Under Stress
In this thoroughly revised and updated edition of Help for Women Under Stress originally published in 1986, Randy and Nanci offer you both the hope and the help you are looking for. They not only help you understand what stress is and how it operates, but give plenty of useful tips and strategies for bringing peace to the chaos of your daily life. (purchase)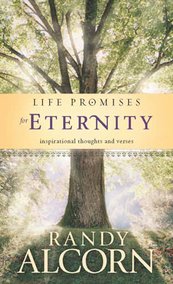 Life Promises for Eternity
Life Promises for Eternity provides readers with more than 100 brief, inspirational readings on the topic of Heaven and the New Earth. Each reading is coupled with a trio of complementary Bible verses. A beautifully designed two-color, padded gift book with a ribbon bookmark. (purchase) Also available on audio CDs.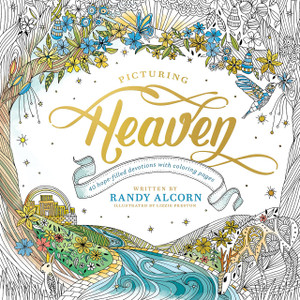 Picturing Heaven: 40 Hope-Filled Devotions with Coloring Pages
Let the power and majesty of Heaven fill your heart with joy as you color these 40 designs carefully interpreted from the pages of Scripture. Savor a respite from daily life as you read and meditate on the accompanying devotions from author Randy Alcorn. (purchase)

Safely Home
Randy weaves a tale of intrigue and hope that takes readers on a journey from corporate America to the persecuted church in China. The novel challenges readers to consider if they are prepared to suffer and die for their faith, while reminding them of the hope of heaven and the importance of living with eternal matters in their daily lives. (purchase) Also available on audio CDs.
Seeing the Unseen
This 90-day devotional equips and inspires readers to live with a right view of eternity that can shape the way they think and live today. The new edition is expanded to include 30 additional daily readings. Each brief devotion includes Bible verses and inspirational quotes, along with Alcorn's uniquely powerful insights, to help readers better understand the eternal realities that should guide a Christian's daily life (purchase)

We Shall See God
Randy Alcorn has compiled the most profound spiritual insights on the topic of eternity from Spurgeon's sermons and arranged them into an easily-accessible, highly inspirational format complete with his own comments and devotional thoughts. (purchase) Also available on audio CDs.
Have a question about a product? Contact us.