Christmas gifts for under $10

The Chasm
The Chasm is a short-story allegory about a man on a journey to reach a special place. Reminiscent of Pilgrim's Progress, The Chasm is a quick and highly readable narrative and is powerfully illustrated by artist Mike Biegel with a dozen compelling line drawings. (purchase)

Courageous
From the creators of Fireproof comes an inspiring new story about everyday heroes who long to be the kinds of dads that make a lifelong impact on their children. As law enforcement officers, Adam Mitchell, Nathan Hayes, and their partners willingly stand up to the worst the world can offer. Yet at the end of the day, they face a challenge that none of them are truly prepared to tackle: fatherhood. (purchase)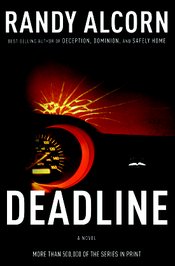 Deadline
Deadline is the story of a politically correct journalist forced by tragic and mysterious circumstances to come to terms with his own mortality. In the process he must also deal with the consequences of his skewed perspectives on life, family, morality, and religion. Intended for believers and unbelievers. (purchase)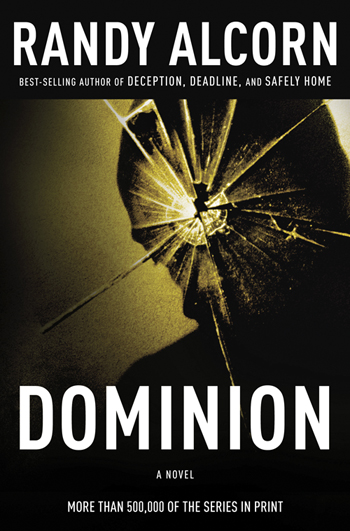 Dominion
Clarence Abernathy, an Oregon columnist and suburban middle-class black, is dragged into a world of inner-city gangs, drugs, violence and racial conflict. Clarence's anger at injustices he cannot control pulls him onto turf that becomes more dangerous by the moment. (purchase)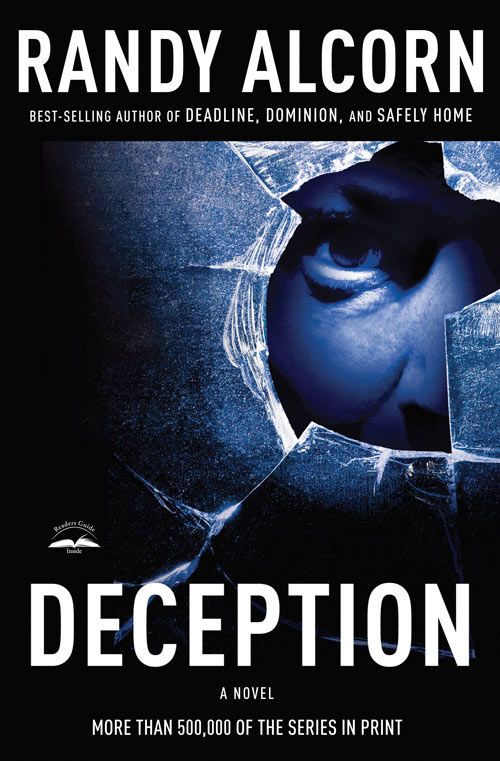 Deception
Ollie Chandler is a brilliant and quick-witted homicide detective with exceptional deductive skills and street smarts. He's a police department legend for his off-beat methods that solve crimes and coax confessions. When a Portland State University professor is found murdered in his home, Ollie is called in. Some strange indications on the professor's body suggest a peculiar means of death. (purchase)

Edge of Eternity
Alcorn spins an entertaining and intriguing tale about a world where life's deeper reality is revealed, focusing readers' attention on the truth about heaven and hell. Nick Seagrave is a disillusioned business executive who has lost loved ones to tragedy and his family to neglect. Now, at a point of great crisis, he finds himself inexplicably transported to what appears to be another world. (purchase)
God's Promise of Happiness
Think God doesn't want you to be happy? Think again. We know that we will experience unimaginable joy and happiness in Heaven, but that doesn't mean we can't also experience joy and happiness here on earth. In God's Promise of Happiness, bestselling author and noted theologian Randy Alcorn shares select passages and Scripture from his latest hardcover release, Happiness, that provide insight, wisdom, and proof positive that God not only wants us to be happy, He commands it! (purchase)

The Goodness of God
In this specially focused condensation of Alcorn's If God Is Good: Faith in the Midst of Suffering and Evil, we're continually guided into a deeper glimpse of God's loving ways and higher purposes. (purchase)
Grace: A Bigger View of God's Love
Nothing is as stunning or as hope-giving as God's grace. Randy Alcorn offers 203 daily meditations with Scriptures and inspirational quotes that will enable you to grasp more fully the grace God has lavished on us and give you a bigger view of God's love for those who are His. (purchase)
The Grace and Truth Paradox
John 1:14 boils down for us what it means to be Christlike. It means to be full of only two things: Grace and Truth. Instead of a dozen, this gives us just two balls to juggle. It's succinct, a two point checklist of Christlikeness. Everything we do can and should be measured by the test of grace and truth. (purchase)
hand in Hand
In hand in Hand, Randy Alcorn says that the traditional approach to this debate has often diminished our trust in God and his purposes. Instead of making a one-sided argument from select verses, Alcorn examines the question in light of all Scripture. (purchase) Also available in audio CDs.
Help for Women Under Stress
In this thoroughly revised and updated edition of Help for Women Under Stress originally published in 1986, Randy and Nanci offer you both the hope and the help you are looking for. They not only help you understand what stress is and how it operates, but give plenty of useful tips and strategies for bringing peace to the chaos of your daily life. (purchase)

In Light of Eternity
Your Greatest Adventure is Just Around the Corner

In Light of Eternity is a straightforward, real-life look at what it means for believers to both think and live in light of eternity. (purchase)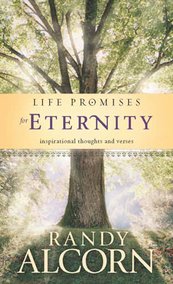 Life Promises for Eternity
Life Promises for Eternity provides readers with more than 100 brief, inspirational readings on the topic of Heaven and the New Earth. Each reading is coupled with a trio of complementary Bible verses. A beautifully designed two-color, padded gift book with a ribbon bookmark. (purchase)

Lord Foulgrin's Letters
Know your enemy. Read his mail. Lord Foulgrin's Letters are written by a demon to his subordinate Squaltaint. Lord Foulgrin advises Squaltaint how to tempt and deceive Jordan Fletcher, the human "vermin" or "sludgebag" to whom he's assigned. (purchase)

Managing God's Money
God cares a great deal more about our money than most of us imagine. The sheer enormity of Scripture's teaching on this subject screams for our attention. In Managing God's Money, Randy Alcorn breaks down exactly what the Bible has to say about how we are to handle our money and possessions in a simple, easy-to-follow format. (purchase)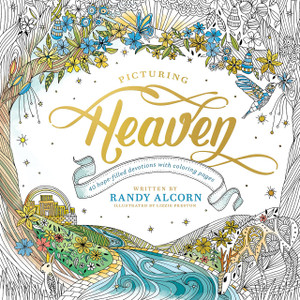 Picturing Heaven: 40 Hope-Filled Devotions with Coloring Pages
Let the power and majesty of Heaven fill your heart with joy as you color these 40 designs carefully interpreted from the pages of Scripture. Savor a respite from daily life as you read and meditate on the accompanying devotions from author Randy Alcorn. (purchase)

Purity Principle
Some people have given up on purity. Some have never tried. Author Randy Alcorn shows us why, in this culture of impurity, the stakes are so high—and what we can do to experience the freedom of purity. (purchase)

Safely Home
Randy weaves a tale of intrigue and hope that takes readers on a journey from corporate America to the persecuted church in China. The novel challenges readers to consider if they are prepared to suffer and die for their faith, while reminding them of the hope of heaven and the importance of living with eternal matters in their daily lives. (purchase)
Seeing the Unseen
This 90-day devotional equips and inspires readers to live with a right view of eternity that can shape the way they think and live today. The new edition is expanded to include 30 additional daily readings. Each brief devotion includes Bible verses and inspirational quotes, along with Alcorn's uniquely powerful insights, to help readers better understand the eternal realities that should guide a Christian's daily life (purchase)
TouchPoints: Heaven
Inspired by Randy Alcorn's best-selling comprehensive book Heaven, this little 216-page paperback contains biblically based answers to many questions about what life will be like on the New Earth. (purchase)

Treasure Principle
In contemporary, easy-to-understand language, Alcorn offers readers a six-step plan to finding the immediate pleasure and eternal rewards of the Treasure Principle. Once readers discover the liberating joy of giving, life will never look the same. And they won't want it to! (purchase)
Truth
Author Randy Alcorn shares 200 daily meditations with Scripture readings and inspirational quotes to help you grasp the wisdom and love found in the eternal Word of God. God's truth is real, alive, and able to transform you into the person you long to be. This is your invitation to refresh your heart and find lasting security. (purchase)

We Shall See God
Randy Alcorn has compiled the most profound spiritual insights on the topic of eternity from Spurgeon's sermons and arranged them into an easily-accessible, highly inspirational format complete with his own comments and devotional thoughts. (purchase)
Have a question about a product? Contact us.