Operation Christmas Child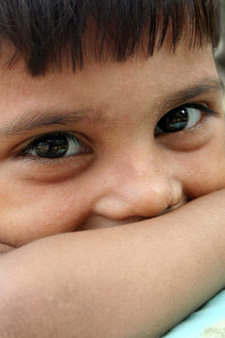 Millions of children's lives are touched each year by Operation Christmas Child. When Samaritan's Purse undertook the project in 1993, the staff expected to receive a few thousand shoe box gifts from donors. Instead, 28,000 boxes were collected and delivered to children in Romania. Since then, the Christian international relief and evangelistic organization has distributed more than 31 million gift-filled shoe boxes to children in over 120 countries.
The concept is simple. Churches, schools, organizations, families, and individuals pack shoe boxes with gifts such as toys, school supplies, personal hygiene items, candy, and small items of clothing. Participants take the boxes to one of more than 1,700 drop-off sites located in all 50 states. From there, they are sent to one of six major processing centers in the United States to be inspected and prepared for overseas shipment. Then the boxes are loaded onto cargo planes, sea containers, and trucks bound for delivery in some of the most remote regions of the earth.
From the beginning, Samaritan's Purse President Franklin Graham envisioned Operation Christmas Child as an outreach for the Gospel.
When the shoe box gifts arrive at their destinations, local Christians assist in the distribution of the boxes. They offer the children illustrated booklets called "The Greatest Gift," now available in over 50 languages. Churches in the area also have follow-up evangelism and discipleship Bible lessons, and many people come to know Christ and experience changed lives.
From children in Sudan suffering from the world's longest running civil war to Ugandan children devastated by the HIV/AIDS pandemic, these shoe box gifts go to children who have never received a Christmas present. The gifts brighten the lives of hurting children and provide opportunities to share with them the hope found in Jesus Christ, God's Christmas gift to the world.
For more information or to order free materials, contact Samaritan's Purse at (800) 353-5949 or visit www.samaritanspurse.org
National Collection Week is November 15-22, 2004, but shoe box gifts are accepted year round at Samaritan's Purse international headquarters in Boone, NC. Gifts may be mailed or shipped to:
Operation Christmas Child, Samaritan's Purse
P.O. Box 3000
801 Bamboo Road
Boone, NC 28607
(828) 262-1980
(This article was excerpted from the Samaritan's Purse 2004 newsletter.)