Will the 2008 Olympics Benefit China's Persecuted Population?
Safely Home Author Randy Alcorn Discusses Persecution and Religious Freedom in China
The decision to name Beijing as host of the 2008 Olympics has caused an international stir. Is it morally right to hold the Olympics in a country notorious for violating basic religious freedoms and human rights? Randy Alcorn, the author of the new novel about the persecuted church in China titled Safely Home (Tyndale House Publishers), says, "ethically speaking, it was a poor decision, but it will put China under the greatest world scrutiny it's been under in modern times."
Alcorn supports the persecuted church around the world through his organization Eternal Perspective Ministries. In spite of the image the Chinese government portrays, Alcorn has found that the Chinese have very limited religious freedom. In fact, a recent Newsweek article reported that Chinese communists demolished approximately 1,500 houses of worship in just six months ("The Changing Face of the Church," April 16, 2001).
"Should a country that violates human rights in such dramatic ways be rewarded by the global community by being given the Olympics?" asks Alcorn. "No. It sends the message 'human rights aren't a big deal. You can persecute people, imprison them for religious and political reasons, but we'll still honor you by making you host of the Olympics'." His concern, he says, is that the decision could give China the impression that their propaganda efforts are working. And unfortunately with some they are. "But since China is extraordinarily image conscious, this may restrain the hand or persecution against believers and it will certainly result in the gospel being brought into China," says Alcorn.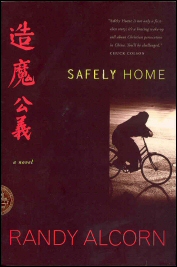 Will China's general population benefit? "There will be a huge flow of money into the country," Alcorn says. "Beijing will no doubt demolish ghetto housing that would be visible to cameras. But will these poor people be compensated and relocated to better conditions? Probably not. Will they be allowed to inhabit whatever nice structures are built in place of the old hovels? Probably not. Everything in China is calculated for image and prestige and economic prosperity."
Alcorn believes that the influx of Christian athletes, coaches, journalists and spectators—and the Bibles and literature they will bring—will be good for China. He is skeptical that persecution of Chinese Christians will end with the Beijing Olympics, but he is certain that this persecution will be well hidden from international cameras.
For more information about this book, see Safely Home.