Developing a Heart of Compassion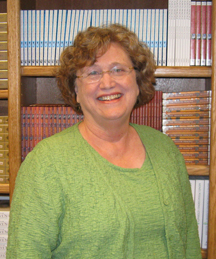 EPM Staff Spotlight: Catherine Simons

When I began volunteering at EPM in January of 2007 and joined the staff as a receptionist two months later, I didn't know then how God would use this ministry to teach me about developing a heart of compassion.
I love the contact with people my job gives me as I manage projects, provide support for the other employees, and offer encouragement and a smile to anyone God brings into my day. Each phone call and email brings new surprises, and the questions are interesting and challenging. One of my favorites came from a child who asked, "Will there be fat people in Heaven?" The tears and hurts expressed by others are real and provide many opportunities to give God's counsel from His word, share my faith and life experience, and pray with callers.
It's amazing to see how EPM's ministry touches believers around the world. A highlight for me was being introduced through an email to the first and only Pregnancy Resource Center in the country of Serbia. I have corresponded with their director and prayed for her, the country, and the prolife movement there. When the center was invited to teach about abstinence in public schools, EPM sent a gift to help with printing materials for that ministry.
Since Randy believes it is essential for people to find Bible-believing, Christ-centered churches to help them in their spiritual growth, one of my jobs is maintaining a database of churches around the country and the world. (I've had requests for church referrals from as far away as Japan and Australia!) When I receive a request, I pray and trust God to give me insight and wisdom as I carefully choose a few churches I think might be a good match. The final results are in God's hands, and I know He helps many find good church homes.
Churches are a familiar subject to me because my husband Dennis and I were in pastoral ministry for 27 years, serving in two churches. While he was a pastor, Dennis got involved in Emergency Services Chaplaincy, and 15 years ago he decided to make it his main ministry. We are now missionaries in our own community: he is a full-time volunteer chaplain serving fire, police, EMT workers, and community members. Dennis feels he is a "pastor-at-large to the community," and he has a remarkable ministry meeting people at their moments of greatest need. I work with him behind the scenes and also keep the chaplain "on his feet"—no small job since with the blessing of ministering comes the challenge of managing our own stress levels.
Because of what we do in the chaplaincy, I wanted to be genuine in my empathy for others. I have always been an encourager and love to help people, but a few years ago I realized I was not letting myself "feel" the pain of others, so I asked God to make my heart tender. Boy, does He answer prayers like that.
God has used EPM to teach me so much about compassion and being aware of others' needs. One of my assignments is maintaining a database of giving opportunities from ministries all over the world to help us disperse the royalties from Randy's books. It has made my heart so tender to others, and I wish everyone could be as aware of the many needs. I have a special passion for orphans and have cultivated a heart for them by praying, giving, and helping others hear of their needs. I'm sure at times I've been overzealous about how we as Americans have so much to give. Do you suppose I have been influenced by that great book The Treasure Principle?
I hope to continue being faithful to what I've learned as I get older—and possibly wiser. I like that EPM values those of us in our "retirement years," and I've teased our office manager by asking, "Can I work or volunteer at EPM as long as I can climb the stairs to our office?" Only God knows what my future holds, but I want to finish well.
Note: Catherine has since retired from EPM.