Linda Jeffries: Keeping the EPM Office Running Smoothly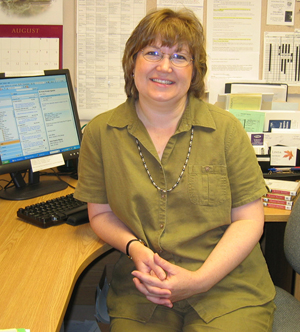 There's a lot to know about Linda Jeffries, office manager at Eternal Perspective Ministries, but by far the best way to understand her is to know the God she serves. Even a brief conversation with her will have you pointed in that direction, and He is the reason she works at EPM.
Originally, Linda was hired part-time, mainly to assist Kathy Norquist, Randy's executive assistant. The ministry grew, and as the needs of the office expanded, her role changed to office manager. One major cause of growth was the release of Randy's Heaven book. "It just exploded," said Linda. "Phone calls, orders, questions."
Amidst this growth, Linda coordinates and supervises staff and volunteers. "I like people. I like to be able to help people find and work within their gifting."
Part of her responsibility is to facilitate smooth operations and flowing communication. Key in office communication are the weekly staff meetings Linda coordinates. Her job is to see the big picture. "I know I can't do it. It has to be the Holy Spirit working through me. Each day I ask God to help me and give me the skills to be the person He needs me to be with the staff."
The staff is mainly made up of women, all intelligent and creative. According to Linda, some see this as a recipe for conflict, but things are actually quite the opposite. "We genuinely care and love each other, and that makes my job easy," said Linda, who has found minimal need for conflict resolution. "That's a gift from the Lord."
Since the first day of her employment, one constant that remains is answering emails. Randy cannot answer the vast majority of them personally, so Linda does her best to respond, often finding answers to people's questions in something Randy has already written. "When we get questions in emails, sometimes I think it's beyond me, so I pray about it."
The emails really picked up when Heaven came out. "Some are just heart-wrenching," she said, recalling emails from people who lost loved ones. "I feel connected to them because they are sharing of themselves." Linda looks forward to lots of introductions and "tea times" with these people one day in Heaven.
Because Randy has written on so many topics of eternal value, Linda finds it difficult to claim any particular one as her favorite. "The areas he touches on are so huge. They hit you in a big way. At least they do for me."
Still, prolife and adoption are subjects close to Linda's heart because her daughter, Erin, was adopted from Korea. "Someone was strong enough to carry her to full-term for me," she said.
Linda had already given birth to two sons, Adam and Christopher, when she and husband, Kerry, felt the Lord's calling to adopt. "There was a child out in the world that belonged in our family," said Linda. "But we didn't have the money." So we prayed, 'If this is what you want us to do, you'll have to supply the funds.' And He did." Linda recalled a time Kerry was asked to help transport a car and was compensated the exact amount needed for the adoption application fee.
The boys were very involved in the adoption process, picking out toys for their sister, helping get her room ready, and taking part in the home-study discussions. "I remember them praying for her," said Linda.
When the time came to welcome Erin at the Seattle airport, the boys were excited to meet her. They plopped down on a blanket and played with her right there at the airport. "She was their sister from the very beginning," said Linda. The family stayed in a hotel in Seattle as it was a time of celebration and bonding. "God just had His hand in the whole thing. God does give us the desires of our heart, and our desire was to adopt this child."
Linda has heard people ask, "Could I love a child I didn't give birth to?" The truth is, "They're your kid. That's not even an issue. It's like asking, 'How could God love me?' He just does. You're His child."
Linda is married to her high school sweetheart, Kerry. She enjoys sewing, crafts, gardening and reading.
Note: While more than one-third of Americans have considered adoption, no more than 2% have adopted. Get more information and resources on adoption from Focus on the Family.