Three Book Giveaway of the Month: Heaven for Kids
The Heaven for Kids book giveaway is now closed. Please check back on April 7 for the next giveaway.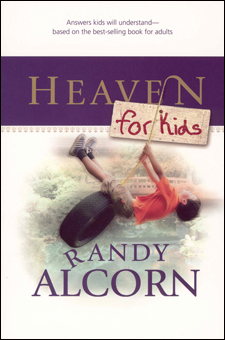 From Randy: Stephanie's stepping in again with a new book giveaway. I loved reading all your comments last time. Glad we're giving you the audio option this time. Personally, I love listening to books on my CD player. And nice to have them on my IPod when I'm flying somewhere. Kids are always listening to stuff, and it was fun imagining a group of them in front of me as I read the book in the recording studio.

It was a blast writing and recording Heaven for Kids. I hope you enjoy reading or listening. One of the things I loved doing was including a bunch of stuff from The Chronicles of Narnia, more than was in the big Heaven book. And by the way, if my big Heaven book seems too heavy for you, or if 50 Days of Heaven is too devotional, consider this: there's a church in Florida in which the men's ministry read and studied Heaven for Kids!

After Stephanie's explanation, I'm going to finish off with a story about the book we're giving away. Thanks, Steph!

From Stephanie: We had so much fun with last month's Safely Home giveaway that we're back with round 2! This month's winners can choose between a signed copy of Randy's children's book Heaven for Kids or a signed copy of the Heaven for Kids audio book (perfect for those family road trips!)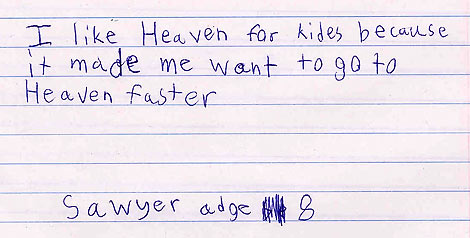 In a language kids can understand, Randy Alcorn explores Biblical answers to the questions kids often have about heaven. As in the adult title, Heaven, he addresses the difference between the present Heaven, where we go when we die, and the New Earth, where we will live forever with Jesus after he returns. Intended for kids age 8-12, Heaven for Kids is sure to be an excellent resource for families, especially those in which the parents have read the adult title and wish to pass on that same level of understanding to their children. The book features ten chapters of questions, and answers based on scripture and written in a style relevant to today's kids. The book also has a summary of the Gospel for those who want to be sure they are going to Heaven someday. Randy encourages kids to live "in Light of Heaven."

Kids have always asked . . .
Do we become angels in heaven?
Will my dog be there?
What will we eat?
Will I have to play a harp?
Will we play ball?

. . . and adults have always wanted to give better answers.
Here's good news!

The deadline to enter is Friday, March 28, and 3 winners will be randomly drawn and announced on Monday, March 31. Entering for your chance to win is as simple as leaving a comment on this post. But we've had trouble locating a couple of last month's winners, so please include your contact information (a blog, or an e-mail address). If you would prefer not to post your e-mail address, please check back on March 31 to find out if you are a winner. (Need assistance with posting a comment? Just e-mail me at stephanie@epm.org)

And for the month of March, Heaven for Kids is on sale at the Eternal Perspective Ministries website for $8.39, a 40% discount. Safely Home, last month's giveaway, is also on sale during March for $7.00 (a 50% discount off the retail price).

Check out the first chapter of the book, and see the cute kid pictures, or listen to some Mp3 samples from the audiobook version: How can we know that we are going to Heaven? or Will we play?

Thanks for entering. Both Randy and I truly enjoy reading each one of your comments!

Stephanie Hallman
Promotions Director
Eternal Perspective Ministries

A story from Randy about Heaven for Kids:

The giveaway of this book reminds me of something. Let me set it up.

I give away lots of books to people I come across, believing God gives me divine appointments every day. I often used to wish I had just the right book to give to kids. Since Heaven for Kids came out two years ago, I've written Wait Until Then and Tell Me about Heaven. Atthough I could give teenagers The Ishbane Conspiracy, written with my daughters, and many of my other books too, until Heaven for Kids I didn't have anything to give pre-teens.

The day the first shipment of Heaven for Kids was delivered, Nanci and I drove to someone's house that we'd never been to before or since. When we pulled up, outside the house next door a boy about ten years old was sitting on the curb. His head hung, and he looked miserable. I walked over to him and said, "Nice day, huh?"

"Yeah," he said, "but I can't ride my bike. Tire's flat."
"Bummer," I said. "Do you like to read?"

"Yeah," he said, still looking like his dog had died. I handed him Heaven for Kids. He looked at the boy on the cover, on the tire swing, smiled and said "Cool! You're really giving me this?"

"Sure," I said.

"Wow. Thanks!" He opened it and started reading.

I entered the house, then nearly an hour later glanced out the front window. There was the boy, still sitting on the curb, and still reading Heaven for Kids.

That was God's gift to me, seeing in that boy's hands the first book I'd ever written that I knew a ten-year-old would understand and enjoy. And it had special meaning because I vividly remember when I was his age, how I loved to read, and had never heard the gospel then, and wouldn't for another five years. (If I'd read a book then in which someone cited portions of The Chronicles of Narnia, I'd have checked them out of the library in a heartbeat.)

Thank you, Lord, for your kindness. And though I may never see that boy again in this life, I pray I'll see him in Your presence. And if I do, I know he'll never look miserable again—and maybe we'll spend a day together on the New Earth, riding bikes and talking about books and giving all praise and glory to You!
Stephanie Anderson is the communications and graphics specialist at Eternal Perspective Ministries.