My Novel "Edge of Eternity": Some Have Enjoyed It, Others…Haven't
Edge of Eternity was my third novel. Unlike my others, the story takes place in an imaginary world, which allowed me to depict invisible spiritual realities in visible ways.
Over the years I've noticed that the response to the book has generally landed in two extremes—some readers love it and others…not so much. :) Several readers have written to say they've read it over and over. For instance this one: "Edge of Eternity is without a doubt the most incredible fiction book I've ever read. It changed my life. I've read it over a dozen times, given another dozen copies as gifts, and ran a book study group comparing it to what the Bible actually says. Every time I read it, I find more and more details that send me researching and thinking and pondering."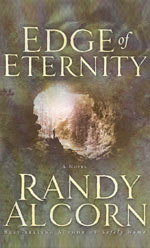 A reader who enjoyed Edge of Eternity wrote, "I finished reading this book two days ago and the vivid images burned in my mind from the book are still quite fresh. I felt as though I had just gotten off a roller coaster when I put the book down. The book just drew me in. I was on the planet Thuros walking alongside Nick Seagrave (the main character)."
Someone else wrote, "I sit here with tears in my eyes having just finished Edge of Eternity. Thank you for writing it. I appreciate the chance it has given me to pick up my guide book, forget what I think, and read what I should. The challenge of course will be the doing. Thank you for the glimpse."
In contrast to these glowing reports, one guy asked me, "Were you smoking dope when you wrote that book?" Another wrote, "It's kind of like Pilgrim's Progress on an acid trip." A reviewer said, "This book was like a bad dream." Some who usually like my fiction encouraged me to get back to the sort of stories I told in Deadline and Dominion (and later Deception)!
But the other reports of lives changed by the book keep coming. One of my favorites was told me not long ago by a young man who was carpooling back to college with a few fellow students, when the driver turned on the Edge of Eternity audiobook. The passengers had no choice but to listen. By the time they arrived, the story had touched this young man deeply, and though he said nothing to the others in the car, when he was alone he placed his faith in Christ. He now works for a missions organization, spreading the gospel all over the world.
So what do I hope readers will take away from this book? I hope Edge of Eternity will help people see Christ in a fresh and powerful way and trust Him in areas where we don't see the results or rewards. We all need to be reminded of God's sovereignty and the tangible reality of Heaven as our home. Through writing this book, the reality of my citizenship in Heaven hit home to me—and the reality of hell, too, and the fact that we all have one chance to live life on this earth.
I believe we all have moments, if we stop and pay attention, where we can sense being on the edge of eternity. And we know in those moments that we're not made for this world, but for another world—where we'll see the King at last.
Edge of Eternity may not be for you…or it may be just for you. There's one way to find out…