Latest Prayer Update
May 07, 2013
Dear Prayer Partners,
Thanks to so many of you who prayed for Randy over the several weeks while he dealt with TMJ aggravated by oral surgery on a severely impacted wisdom tooth. In God's sovereignty he had to cancel two speaking engagements because of pain in his jaw and not having the ability to speak for any length of time. But I'm happy to report that he has been on the mend and is doing so much better.
The month of May holds three different speaking events for Randy:
Thursday, May 9, 9 to 11 a.m. PT, Good Shepherd Community Church, in Boring, Oregon: Randy and Nanci would appreciate your prayers as they share at a young mother's group called Mom to Mom at their home church. They'll be doing a Q & A related to their newly revised and thoroughly updated book, Help for Women Under Stress.
Wednesday, May 15, 4:30 to 5:30 p.m. PT: Randy will be a guest on the Georgene Rice Show (on Portland, Oregon's KPDQ 93.9 FM). No matter where you live you can listen live at www.kpdq.com/localhosts/26/ or www.truetalk800.com.
Pray the Lord will use what is shared at these events to encourage women in dealing with stress in their lives.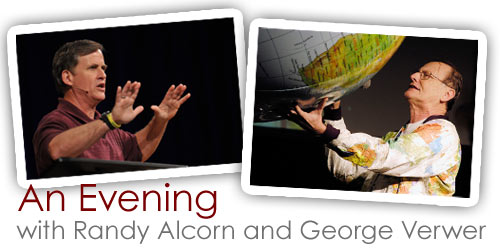 Thursday, May 30, 7:30 p.m. PT, Sunset Presbyterian Church in Beaverton, Oregon: If you're in the Portland, Oregon area or can travel, you're invited to "An Evening with Randy Alcorn and George Verwer." Randy and George, founder of Operation Mobilization, will be sharing together in a Q & A interview format focusing on the "Treasure Principle" of joyful giving and service based on Randy's book. The event is free and open to the public. Please pray God would use what Randy and George share to inspire many towards a lifestyle of generous giving.
Wonderful news to share! After many months of hard work, the artist and colorist are nearing completion of the Eternity graphic novel which is scheduled to hit the bookstores on June 24. "The art and colors are breathtaking, and they make the words come alive," Randy recently said. (You can see a sample of the art on our site.)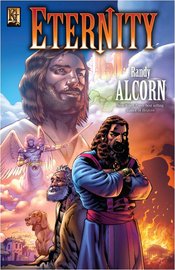 God has laid on Randy's heart a vision for sending Eternity far and wide, to the target audience of young men and women, as well as those in prisons, halfway houses, drug rehab centers, schools, libraries, and more. He writes, "The Lord has really impressed this on me. This is a unique product. It includes a clear gospel presentation, embodied in a parable of Jesus into which I've woven depictions of Heaven and Hell. The art is exceptional. I've looked at a number of graphic novels, and have seen nothing like it."
Our EPM staff will be working hard in the coming weeks to facilitate the sending of Eternity "far and wide." We value your prayers that God would bless our efforts and use Eternity in a powerful way to touch and change lives with the gospel of Jesus.
Randy will be attending ICRS (booksellers' convention) in St. Louis, Missouri, leaving Sunday, June 23, and returning on Wednesday, June 26. He'll be connecting with bookstore owners as well as international publishers and spending a lot of time at the Kingstone Media booth, signing copies and helping promote Eternity.
Finally, Randy would value your prayers for his book project on happiness which is due February 2014. "I would request a great empowerment of God to accomplish much more as I write and edit a huge book project I'm currently working on. I really need God's anointing and guidance and provision."
Thank you so much for your prayers for Randy and Nanci. They deeply appreciate your investment in the ministry of EPM through your prayers.
Kathy Norquist
Executive Assistant to Randy Alcorn
The one concern of the devil is to keep Christians from praying. He fears nothing from prayerless studies, prayerless work, and prayerless religion. He laughs at our toil, mocks at our wisdom, but trembles when we pray. —Samuel Chadwick