The Treasure Principle: Resources
available from EPM
by Brian Smith and Randy Alcorn (12 lessons)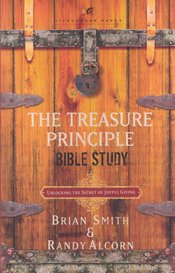 The Treasure Principle Bible Study presents you with more than an intellectual exercise. It regularly guides you back to Christ, who Himself is our central treasure. Only in His presence can you address the necessary changes in thinking and behavior that The Treasure Principle requires. Only in His power and grace can you find the joy of obedience.
This 12-week study is designed for personal reflection followed by discussion with a partner or group. Any of the questions in the study can serve as the basis for profitable discussion, but you'll find in each lesson several questions written specifically for dialogue between you and a partner or group.
This 90-page Bible study features a 12-week study that follows The Treasure Principle book.
Contains brief, six-page lessons for individual or small-group use.
Each lesson includes quotations from The Treasure Principle, discussion questions, and a short Scripture passage for meditation and memorization.
Space is provided to write directly in the book.
available from EPM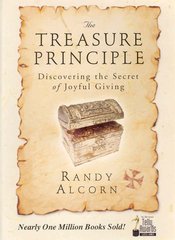 Discover the joy of giving! The Treasure Principle, Randy Alcorn's best selling book, is wonderfully brought to life through this dynamic DVD, which will help you experience how material freedom and radical generosity can revolutionize your world.
This video presentation, hosted by Randy Alcorn and Ryan Rush, is filled with dynamic graphics, special effects, reenactments, historical photographs, and interviews with 'generous givers' to help you discover the astounding secret: how joyful giving brings God maximum glory and His children maximum pleasure. Priceless treasure is within your reach. And with it, liberating joy.
This DVD (comprised of six 30-minute sessions) is perfect for churches, small groups, Bible Studies, Sunday school classes, etc.
"The Treasure Principle will change your life!"
-Howard Dayton, Co-CEO Crown Financial Ministries
available from EPM
This one hour DVD features Randy Alcorn speaking at Solid Rock Church on The Treasure Principle.
available from EPM
Randy writes in The Treasure Principle: "I carry in my wallet a little card. ... Keeping the card near my cash is a powerful reminder of what is true." The card reads, "God owns it all. I'm His money manager." The other side says, "God cares what I do with my money. I'd better ask Him." Both sides include Scripture on stewardship.
You can also download the FREE printable pdfs of the card, in both English and Spanish, under the downloads section at the top of the page.
18 Study and Discussion Questions on the Treasure Principle