Prolife Resources for Pastors and Group Leaders
Case Quantity Discount on Why ProLife?
To equip churches and prolife organizations sharing the truth about the unborn, EPM offers case quantities of Randy's book Why ProLife? for $1.00 per copy (retail $6.95) when you purchase 50 books or more.
Free Prolife Pastor's Kit
Each kit includes:
A copy of Randy Alcorn's book Why ProLife?

a DVD of Randy Alcorn's 2010 Sanctity of Human Life message
An informational brochure listing the many other resources Randy has made available for those teaching on the subject of prolife.
To request a Pastor's Kit, please contact EPM.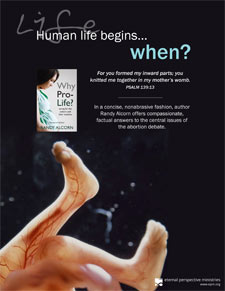 Promotional Materials for Why ProLife?
Handouts and Brochures
Biblical Perspectives on Unborn Children handout (PDF double-sided handout, 8 1/2" x 11")
How Can I Help Unborn Babies and Their Mothers? brochure (PDF trifold brochure, 8 1/2" x 14")
EPM recommends the "Abortion is About God" Sunday School curriculum, available from The Bethlehem Bible Institute (John Piper)
Free Copy of ProLife Answers to ProChoice Arguments for Pastors
EPM will send a free copy of ProLife Answers to ProChoice Arguments to pastors who request the book. Please contact EPM to request your copy.
Promotional Materials for ProLife Answers to ProChoice Arguments
Resource Library
Pastors and church leaders may also utilize the many free resources on our website, including Randy's articles and Q&As, audio and video, links to some recommended prolife organizations, and more.
Sign Up at Any of These Prolife Websites to Receive Regular, Updated Prolife Information
www.lifenews.com
www.facebook.com/LifeNews
twitter.com/stevenertelt
www.abort73.com
www.abort73.com/blog/
www.vitalsignsministries.org
www.vitalsignsblog.blogspot.com
www.lifesitenews.com
www.lifesitenews.com/ldn/subscribe/index.html
liveaction.org
www.facebook.com/liveaction
twitter.com/liveactionfilms
Links to Some Recommended Prolife Organizations
For more a more extensive list, see the Prolife Resource List.