Feb. 04, 2010
Endorsements and Book Reviews of Why Prolife?
Endorsements of Why Prolife?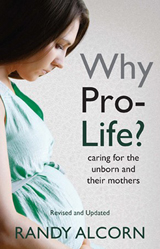 A well-thought-out and thorough analysis of why protecting all human life is not only the right position but the only position we as a society should support. I believe minds will be changed after reading this book. — Kristen Day, Executive Director, Democrats for Life of America
---
In clear, compelling language, Randy Alcorn lays out the case for life, appealing powerfully to both the reason and the emotions. Why ProLife? is an invaluable resource for anyone trying to help a friend or family member understand the prolife point of view. — Charles W. Colson
Prison Fellowship, Washington, DC
---
What a comprehensive, well-documented and compelling book...especially as it relates to our babies at risk. — Jennifer O'Neill
Actress, Author, Spokesperson for "Silent No More" Awareness Campaign
---
To change our culture, it is not enough to say that we are pro-life; we must explain why we are pro-life. This book is an excellent resource that does precisely that. — Father Frank Pavone, National Director, Priests for Life & President, National Pro-life Religious Council
---
This compelling book shatters stereotypes. It will help heal the wounds of America's most urgent internal conflict. — Rabbi Daniel Lapin, President of Toward Tradition, a national coalition of Jews and Christians & Author and radio talk show host
---
Randy Alcorn's concise but comprehensive presentation of the pro-life position is an invaluable resource for open-hearted—yet often tongue-tied—pro-lifers everywhere. — Frederica Mathewes-Green, Past president, Feminists for Life Columnist, commentator, and author of Real Choices
---
A compelling case for the most important issue of our generation. I couldn't put it down. — Andy Stanley, Pastor, North Point Community Church, author of How Good is Good Enough?
---
All the proof anyone could need. Condensed into this little book are compelling answers to the most common pro-choice arguments. Randy Alcorn offers a powerful reminder that all created beings are deserving of dignity, freedom, and equal rights. I believe this book has the capacity to open the eyes and change the hearts of millions. It's a powerful book that you will want to give to everyone you know. — Nancy Stafford, Actress and author of The Wonder of His Love
Comments