Nov. 03, 2009
Why ProLife?
List Price:

$6.95

Your Price:

$3.00

You Save:

$3.95 (57%)

Quantity Prices:

(Buy 2+ @ $2.50 each) (Buy 60+ @ $1.00 each)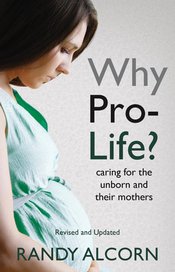 Randy has thoroughly revised and updated Why ProLife?, as well as added substantial brand new content.
This thoroughly revised and updated edition of Why ProLife? offers factual answers to the central issues of the abortion debate in a concise, non-abrasive way. Infused with grace and compassion, and grounded in medical science and psychological studies, Randy Alcorn presents a solid case for defending both unborn children and their mothers.
Chapters such as, "What Makes a Human Life 'Meaningful,'" "Is Abortion Really a Women's Rights Issue," and "How Can I Help Unborn Babies and Their Mothers" help readers to look at the many sides of this polarizing issue. For those on the fence in the midst of the abortion debate, this book will be a great resource as it clearly and thoroughly examines the prolife position. For those who are prolife already, this book is an encouragement to be intelligently and graciously informed.
"Why ProLife? is an invaluable resource for anyone trying to help a friend or family member understand the prolife perspective. With clear, compelling language, Randy Alcorn lays out the case for life, using the power of both reason and emotion." —Charles W. Colson
What's new in this updated edition?
Why ProLife? was first published in 2004. But technology changes, statistics become dated, and new re­sources, stories, and discussions arise. It was time for a thorough update and revision. The changes are too numerous to mention individually, but every sentence in the book was gone over while revising and updating. Hardly a paragraph of the origi­nal has remained unedited, and much new material has been added.
Product Details
Available ebook Formats
Quantity Pricing
Available in varying quantities at a discounted price (listed above).
Translated Versions
Click here to view a list of translated versions of this book, as well as other foreign editions.
Goodreads reviews of Why ProLife?
See all reviews from Goodreads.com