July 31, 2012
Heaven Booklet
List Price:

$0.99

Your Price:

$0.75

You Save:

$0.24 (24%)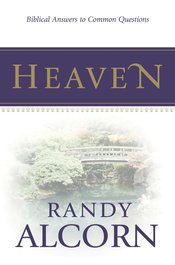 This 60-page Heaven booklet is a sampling of the questions and answers found in the larger book.
Single copy, ideal for individual gifting. (You can also purchase packets of 20.)
We've received hundreds of letters from Heaven readers who share how God has used this book to help them deal with the deaths of loved ones. This 60-page Heaven booklet is a sampling of the questions and answers found in the larger book and is being distributed widely at memorial services and funerals, and used as an evangelistic tool with friends and neighbors.
Product Details
Available ebook formats
Some ideas about how to share the Heaven booklet
Give a gift basket with goodies and a booklet to your neighbor, friend, relative, co-worker, or to someone in your community who has lost a loved one.
If you are a business owner, put them in a basket for your customers to take.
Leave a booklet for a waiter or waitress who serves you.
Bring one with you to share while you are waiting at a doctor's office.
Give one to the clerk who serves you at the grocery store.
Offer them to those who are grieving at funerals and memorial services.
Keep a booklet with you and give it out evangelistically when God provides an opportunity!
Responses from those who have shared the Heaven booklets, with more ideas
"Our church will be giving out food baskets at Easter, and we plan on giving each recipient one of the booklets. If it has as much impact on those receiving the booklets as the book did on my Sunday school class, we will have a revival in this city."
"The day I picked up a struggling senior who was walking home from the grocery store with heavy bags was the last day I was going to be caught unprepared, with no written material to give out as to why the act of kindness was even done. I ordered a packet of your Heaven booklets that very day. When my order came in, I went back to this lady's house, and we had a sweet conversation. She didn't take the booklet as a "devout Catholic that was clear on her destiny." However, this past week my family went to the coast for a few days and my dear hubby treated me to a spa massage. I gave the Heaven booklet to my massage therapist along with a gracious tip. I've been praying for her ever since." —A.G.
"God laid a new idea on my heart the other day when I passed a homeless guy with a sign: to buy $5 gift cards to McDonalds, etc. and put them in the Heaven booklet along with the How Can We Know We're Going to Heaven? tract and give them to them. I always hesitate to give cash to beggars especially when they are steps away from a liquor store. I bought gift cards the other day, but haven't passed anyone yet. Now I look forward to seeing someone with a sign instead of dreading and avoiding them!" —C.Z.
"My elderly mother has been in a nursing home for about a year. She has been sharing Heaven booklets with visitors and staff for almost as long. I had purchased 100 booklets to send with sympathy cards and filled a wicker basket with Heaven booklets for her to keep on her night stand. Many people are curious about the books and most are delighted to take one home with them. Nursing homes are excellent mission fields!" —A.B.
"I have really enjoyed passing out the Heaven booklet and the tracts. It makes spreading God's love easier. I own a small landscaping business and have several aging monthly customers whom I really care about. It has been very meaningful to give them the Heaven booklets, as I have been praying for them for years." —M.F.
Translated Versions
Click here to view a list of translated versions of this book, as well as other foreign editions.
Goodreads reviews of Heaven: Biblical Answers to Common Questions (booklet)
See all reviews from Goodreads.com