March 15, 2010
ProLife Answers
List Price:

$18.99

Your Price:

$11.04

You Save:

$7.95 (42%)

Quantity Price:

(Buy 24+ @ $10.19 each)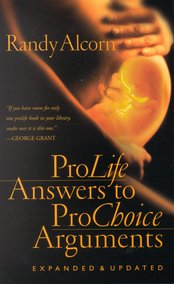 This book is a great tool and reference to equip you to communicate the prolife message.
Now includes updated prolife resource list.
Highly useable tool with complete documentation.
Gives brief, concise answers to the most frequently asked prochoice questions.
Can be directly quoted, copied and used in any way you like.
Specific uses include:
Students doing term papers, speeches, debates
Letter writing to legislators and newspapers,
Conversations with friends, neighbors, and coworkers
It's a great resource for every home.
If you have the first edition, you'll definitely want this one! The revised edition has an additional 150 pages and 7 more appendixes ; 300 new and current footnotes; updated statistics, charts and pictures; many new subjects covered, including partial-birth abortion, fetal tissue research, & frozen embryos
A Note from Randy
Dear Prolife Friend,

ProLife Answers to ProChoice Arguments was originally published in 1992 and was used extensively in prolife education and training. With the help of many others I've just finished revising, updating and expanding the book.

This revised edition is essentially a brand-new book—it's grown from 294 pages to 455 pages and approximately 300 of the nearly 800 endnotes are new, from current sources, many of those in the year 2000. Every page of the original has been changed. Statistics have been updated and new charts and pictures added. Many new subjects are covered, including partial-birth abortion, fetal tissue research, and frozen embryos.

Since the first edition of the book I've received many requests for additional information from students, prolife organizations, speakers and writers. So I've added seven new appendices which cover topics such as communicating the prolife message, a Bible study for group discussion, a church's position statement on abortion and a sanctity of life message. Other topics covered include chemical abortions and the birth control pill.

I've received many reports over the years indicating God in his grace has used this book to train and equip prolifers to communicate our message. Recently I received a letter saying "After reading your book, I went through a belief change. I used to be strongly prochoice. Now, I'm strongly prolife." She then asked for a recommendation of a prolife group near her, where she could serve as a volunteer. We were happy to direct her to one of the organizations listed in the resource section.
Product Details
Available ebook formats
Quantity Pricing
Available in case lots. 24 books per case, discounted price of $8.99 per book.
To receive discounted pricing, please enter the quantity of books as 24 or more.
The Appendices of Prolife Answers to Prochoice Arguments
A Bible study lesson for group discussion
A church's position statement on abortion
A sanctity of life message
Abortion in the Bible and church history
Abortion-relevant references from Scripture
Communicating the Prolife Message
Fifty ways to help unborn babies and their mothers
Finding forgiveness after an abortion
Prolife Resource List
Translated Versions
Click here to view a list of translated versions of this book, as well as other foreign editions.
Goodreads reviews of ProLife Answers to ProChoice Arguments
See all reviews from Goodreads.com