June 02, 2011
Safely Home Anniv. Ed.
List Price:

$14.99

Your Price:

$9.74

You Save:

$5.25 (35%)

Quantity Price:

(Buy 20+ @ $8.99 each)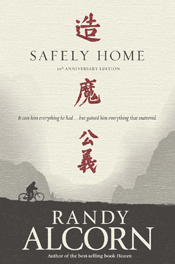 Tyndale House Publishers has given Randy Alcorn's book Safely Home a new look and added features to celebrate the 10th anniversary of the novel.
In 2001, 10 years ago, Randy Alcorn wrote a novel about the persecuted church in China that changed the face of Christian Fiction. Alcorn weaved a tale of intrigue and hope as he took readers on a journey from corporate America to the persecuted church in China. Today, the novel challenges readers to consider if they are prepared to suffer and die for their faith, while reminding them of the hope of heaven and the importance of living with eternal matters in their daily lives.
The added features to this anniversary edition include an interview with the author, letters from readers and book group discussion questions. (The story has not changed.)

This specially repackaged anniversary edition has replaced the previous edition of Safely Home offered from EPM's online store.
Book Summary:
Is this the day I die?
Quan stiffened at the shout behind him. "You meet in the night like the criminals you are. How dare you defy the law? In three minutes we will shoot every man, woman, and child who does not declare himself loyal to the people rather than the gwelios, foreign devils.
American business executive Ben Fielding has no idea what his brilliant old college roommate is facing in China. But when they're reunited in China after twenty years, the men are shocked at what they discover about each other.
Thrown together in an hour of encroaching darkness, watched by unseen eyes, both must make choices that will determine not only the destinies of two men, but two families, two nations . . . and two worlds.
"Safely Home is not only a first-class story; it's a bracing wake-up call about Christian persecution in China. You'll be challenged."—Chuck Colson
"This brilliant story mixes the warmth of a good novel with the harsh reality of the persecuted church." —Dr. Tim LaHaye
Product Details
Available ebook Formats
Translated Versions
Dutch
Finish
Korean
Norwegian
Romanian
Russian
Spanish
Click here to view a complete list of translated versions of Randy's books and access links for ordering certain titles.
Goodreads reviews of Safely Home