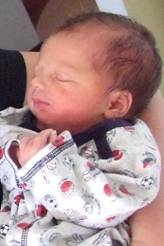 At 9:00 PM Thursday, I got a phone call from Nanci as I was putting grandson Matthew Franklin to bed in the room that once was his mother's. As Nanci talked, in the background was a loud cry, out of the mouth of Jack Timothy Franklin. Jack had just come into the world at 7 pounds, 12 ounces, and 19.5 inches.

He was born at Adventist Medical Center in Portland, Oregon, the same hospital his mother Karina and Aunt Angela had been born in, in 1979 and 1981. (His grandmother Nanci had been born in the same hospital in 1953, though it then had a different name and was located on 60th street, about three miles west of where it is now.)

The phone rang just as I finished praying with Matthew, Jack's older brother. We had prayed that baby Jack and mother Karina would be safe and healthy through the birth process, and were and are deeply grateful for God's gracious answer to that prayer.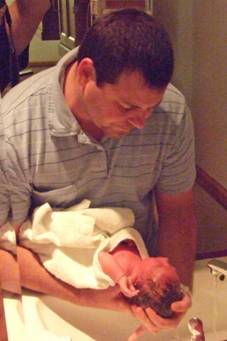 Nanci was joined outside the delivery room by our daughter Angela, a nurse who works part-time at the same hospital, who "happened" in God's providence to be working the exact shift Jack was born. When Nanci called me twenty minutes earlier to tell me Jack's arrival was imminent, I called Angela at work, and she walked the two hundred feet or so to an elevator that took her to her sister's room. Nanci and Ang got to hear together Jack's entrance into the world, and see him a couple of minutes later.

By 10:30 Nanci was home, freeing me to drive to the hospital for my turn to see Jack. I stopped at an all-night Starbucks and got Karina a marionberry scone, a blackberry muffin and an apple fritter. Hey, you give birth to my grandchild and I'll get you three pastries too. And any flavor latte you want.

I got to be there to watch Jack's footprint impression, and see Dan give Jack his first bath. (Jack's first bath; Dan had taken a couple of his own before that night.) Dan, by now a veteran father, did a great job bathing Jack, who felt the bath was somewhat inconvenient compared to the lifestyle he was accustomed to for nine months. But once he was all wrapped up he became totally content.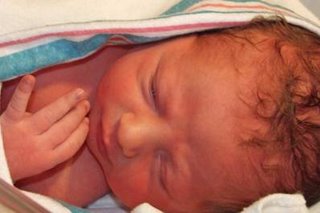 I stayed until nearly midnight, then got to visit Ang in the emergency room and meet a few of her co-workers I hadn't met on previous visits. It was the only place I could see both my daughters a few hundred feet apart, at midnight. God is so gracious.

One of the highlights of the time in the hospital with Karina, Dan and Jack was a time of prayer in which we lifted Jack up to the Father. Having been raised in a nonchristian home, I don't take for granted the privilege of being part of godly generations that can pass on God's grace and truth. As a grandfather, I pray for God's hand in their lives, and look for every opportunity to talk to my grandsons about God's faithfulness.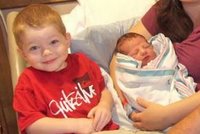 Psalm 78:1-7 says, "I will utter hidden things, things from of old—what we have heard and know, what our fathers have told us. We will not hide them from their children; we will tell the next generation the praiseworthy deeds of the LORD, his power, and the wonders he has done. He decreed statutes for Jacob and established the law in Israel, which he commanded our forefathers to teach their children, so the next generation would know them, even the children yet to be born, and they in turn would tell their children. Then they would put their trust in God and would not forget his deeds but would keep his commands."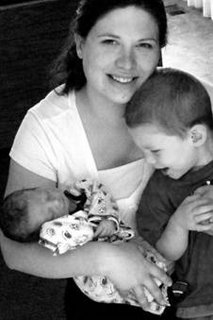 The next morning Nanci and I got to bring in Matthew to meet his brother. That was really special. As you can see from the above, Matthew was happy with Jack. Karina updated me this morning and said Matt is doing great with baby bro.
Matt stayed with us the next couple of days until his family was back home. Here's Matt on Sunday, seeing his brother for the first time in his own home.
Thank you, Lord, for the miracle of creation, of little people fearfully and wonderfully made in your image. Thank you for your sovereign purposes for each of us and them, and that their days are given and ordained by you in advance. Thanks that they belong to You, and You have entrusted them to their parents, and to us. They are precious beyond all treasures.
As you can see from these final pics, Nanci and I are full of praise to God, and look forward to telling Jack and his brother and cousins of God's faithfulness in our lives.