More on the International Christian Retail Show
Though I normally post on Tuesdays, I threw in an extra blog on Saturday, related to some filming we did in the Columbia Gorge last Thursday and Friday. God did some special things those days, and you might be interested in checking out the previous blog since many of you could easily miss it.

I have really enjoyed reading your comments on these first eight blogs. They've been very interesting and encouraging at a time where, frankly, I have needed it. God is faithful, and I have enjoyed some very rich and warm times even on some days that have been darker than usual. Several people, including a physician who read one of my blogs, have pointed out to me studies indicating that for chemical reasons insulin dependent diabetics experience a high rate of depression. In my case, I'm grateful the depression is not debilitating, merely nagging. I am not experiencing anything like despair, though many more godly than I have at times done so. Certainly my trust in the Lord has only deepened in these ten weeks of emotional wilderness.

The clouds have reminded me of my own insufficiency, and left me asking God to empower me to follow Him, and in particular to obey His command to rejoice….clinging to the unwavering reasons to rejoice in Him, even in a smoky world that's burning up under the curse. God is not only our Redeemer, but the Earth's as well (Romans 8:19-21). And that gives me great joy.

I am encouraged by all the passages of Scripture that portray the struggles of God's people, and God's kind understanding and sufficiency to the needy, i.e. those who are acutely aware of their need for the Great Physician. (In easier times I have not always been so intensely aware of my need.) I am also encouraged by being able to see God in the small things: a pleasant rain, a gentle breeze, a bike ride, the warm devotion of a dog, reading a good book. (Note: It's me that's reading, not my dog. Which reminds me of a Groucho Marx quote I had Ollie cite: "Outside a dog, a book is man's best friend. Inside a dog, it is too dark to read.")

A blog comment came in this morning in which someone asked about why we had my sign of the Zodiac posted, and did I really believe in that stuff? Since we would never post anything that suggested a belief in the Zodiac, I couldn't figure out what they were talking about, and nearly gave up, until I opened my Blogger profile. (I already know me too well, so haven't bothered to read up on myself.) When I opened an account, Blogger had asked for my birthday, I had supplied it, and then they auto-supplied Zodiacal references, including "Astrological sign" and "Zodiac Year." (And no, I don't really believe in that stuff—I follow the God who made the stars, not the stars God made!)

So we removed my birth date and I just refreshed my screen and watched the Zodiacal references disappear. Of course, this will mean I won't be flooded with Happy Birthday wishes and deliveries of See's Candies and Best Buy gift cards and Krispy Kreme gift certificates from the blog community on my birthday, but it's a sacrifice I'm willing to make.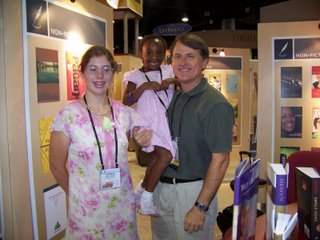 Seriously, though, check out R. K. Harrison's excellent article on astrology. Scripture condemns the religion of astrology, so I would never take it lightly and regard it as harmless. The science of astronomy, on the other hand, is very different, and has been a hobby since I was a kid. God used my love for the stars to draw me to Him as a teenager. When we study the wonders of God's universe, it should bring us in awe to kneel at His feet. That's what astronomy—not astrology—does for me. "The heavens declare the glory of God" (Psalm 19:1).
Okay, back to ICRS, the booksellers' convention earlier this month in Atlanta. Yesterday, someone sent me a picture from a book signing there. That's Jasmine I'm holding. Precious.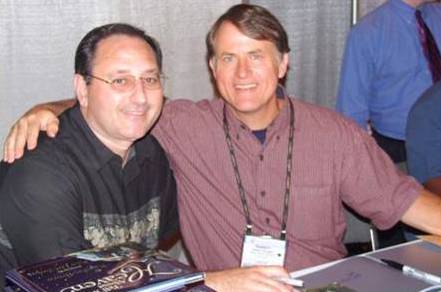 Here I am at a book signing with my friend Ron DiCianni. Writing Tell Me About Heaven with Ron creating the art was an absolute delight. I love this brother. Over the years we've become great friends. See Ron's website at www.tapestryproductions.com. I highly recommend his collection of earlier paintings called Beyond Words. Ron always builds stuff into his paintings that's hidden to most viewers, and in Beyond Words he points those things out. Awesome stuff.
Ron had originally intended to create four new paintings for Tell Me About Heaven but with promptings from the Holy Spirit, I helped egg him into making eight new ones, eleven total. I believe it's his best work ever. (To show you Ron's heart, one bookseller alluded to some difficulties he was facing and Ron just grabbed his hand and we prayed together on the spot with the man and his wife.)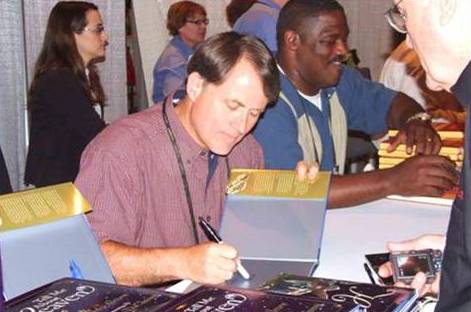 Sitting on the other side of me at the book signing was a brother I hadn't met before, Voddie Baucham (learn more about him). Voddie seemed like a great guy. Check out his excellent message on truth and postmodernism, which I listened to yesterday. The message was given at one of John Piper's conferences.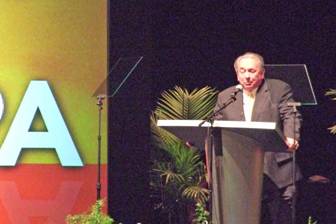 You learn a lot about someone from how they respond to praise, and Voddie responded to people's comments with grace and humility. I wish I'd had time to talk with Voddie afterward, but we always get scheduled back to back, so your finish time at one event is your start time at another, which might be a half mile's walk away. But Voddie and I really enjoyed listening to and laughing at Ron D's comments, which ranged from profound to inane, with a definite edge to inane. Voddie had never been around Ron, so it was fun to see the quizzical looks on his face. I would respond, "Yeah, Ron really DID just said that. One time I heard him say…"
R. C. Sproul was given the lifetime achievement award at the ECPA awards event. Here's R. C. speaking after receiving the award.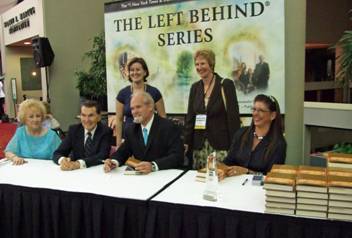 After the ECPA awards they had a special reception for the LaHayes and the Jenkins, all four of them good folk who I generally chat with just once a year. People stood behind them to pose for their own pictures. In this case it was Francine Rivers and her daughter. Frani, as her friends call Francine, is one of our favorite people in the world of Christian writing. Nanci and I love her and her husband Rick, and it was great to meet her daughter.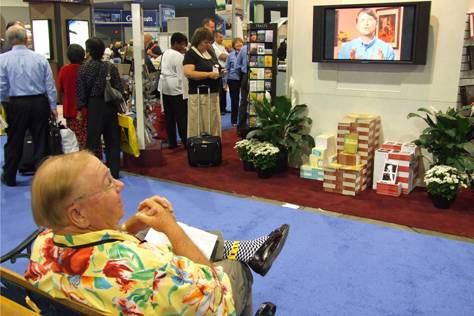 One of the funniest people I've ever met is Tyndale author and speaker Kevin Leman. It's a joy to see him every year at ICRS. This time I saw him sitting watching a video at the Crossway booth. I snuck up behind to surprise him, then realized that was me talking on the video. We had a good laugh about that.
One thing I love about Kevin is that I'm typically the most casually dressed person at ICRS events. At the Christy Awards and the Tyndale dinner, for instance, it's coat and tie for most men, but it's polo shirt for me. But Kevin always wears these Hawaiian shirts and outrageous socks, so people tend not to notice how I'm dressed. I often explain that I'm from Oregon, where we don't dress up. (Some Oregonians do, but I don't mention that.)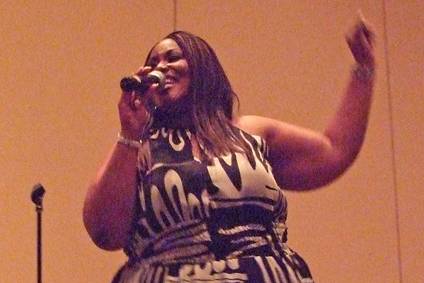 I'm not an American Idol fan, but several friends made clear that I was an idiot for not knowing who Mandisa was. She sang at the Tyndale House banquet. The PA system was lousy, but she was amazing. I was sitting six feet from the stage. This lady has a voice. And appears to genuinely love our Jesus.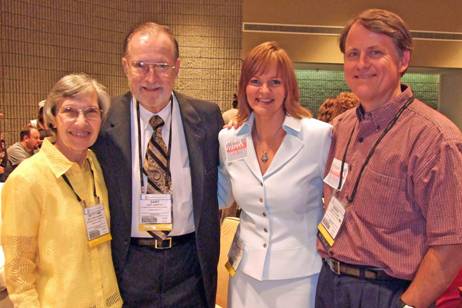 The final pic is Shannon Ethridge, author of Every Young Woman's Battle and lots of other books. Her friends, in the photo, said they've been helped by my Heaven books to deal with a recent loss. Speaking of which, there's an amazing story here.
Years ago, Gary Jarstfer, in the picture, formerly a Wycliffe missionary, lost his wife Marjorie when she was killed in an accident. A sixteen-year-old girl, driving to school, was distracted, and struck Marjorie, who was riding a bicycle. That young girl, who nearly took her own life in despair over what had happened, was Shannon Ethridge.

In a new book, Shannon tells the story of Gary Jarstfer's incredible forgiveness and care offered her when she was distraught. See more here and here. This is a powerful story, and the countless readers that have been touched by Shannon's books owe much to the grace of Jesus shown her through Gary Jarstfer.
For the Jarstfers to tell me how the Heaven book has been of help to them makes me remember all those long nights when I felt tired and lonely, writing that book, while the world slept. That's how it seemed, except God would draw me close, and He was not sleeping, and I knew I was spending night after night with Him. That sustained me. And the life-changing stories I've often heard from readers confirm that the hard work of writing is really worth it. (Don't get me wrong—many of you do things much harder than writing. Working on an assembly line and raising little children come to mind.)

I'm going to save the Voice of the Martyrs display for an upcoming blog. It was powerful, and deserves to be more than an add-on.

Walk with Jesus today. Call upon His grace. He is the vine, we are the branches. Apart from Him, we can do nothing.