I spoke this weekend at the Peacemaker Conference in Charlotte, NC. (Mary, if you or someone in your Heaven study in Charlotte reads this, it was so nice talking with you on the phone when I was there.)

I have long appreciated Peacemakers, and encourage you to check out this ministry if you're not familiar with it. Or you might enjoy watching the video at their website.

Peacemakers works to resolve conflicts within churches, Christian ministries and between brothers and sisters who wish to obey God's command not to bring before civil authorities conflicts between Christians (1 Corinthians 6). God expects His children to work out our troubles under godly counsel guided by the Word of God and the Spirit of God, to the glory of Christ. The ministry also offers materials and training in proactive peacemaking that avoids many conflicts in the first place.

Three of our staff members—Linda Jeffries, Janet Albers and Catherine Simons—were there at our EPM book table, serving others and enjoying the conference too. (I asked them to be on their best behavior, as you would really hate to see three women yelling at each other and pulling out each others' hair at a Peacemakers' conference: "Cat Fight at the Eternal Perspectives booth!")

Seriously, though, Linda, Janet and Catherine—who actually get along very well, thank you—all commented on the wonderful attitudes of the people attending the conference. I noticed the same. I can see now why so many people I talked with say that they make the conference an annual event, and never miss it. There's always more to learn about peacemaking, in your family, your church and your workplace. Hats off to Ken Sande and his wonderful wife Corlette, pictured here, and all the wonderful folks at Peacemakers. Your work is close to God's heart.


My deep belief in resolving conflicts among believers goes back to when I was a new believer in the early 1970's, and I was profoundly influenced by the writings of Francis Schaeffer. He cited John 17, where Jesus prayed, "I have given them the glory that you gave me, that they may be one as we are one: I in them and you in me. May they be brought to complete unity to let the world know that you sent me and have loved them even as you have loved me."
Schaeffer essentially said that God has given the world the right to judge whether the gospel is true based on whether or not we Christians can get along with each other.

Specifically, he said this in The Mark of the Christian:
Jesus says, "By this shall all men know that you are my disciples, if you have love one for another." In the midst of the world, in the midst of our present dying culture, Jesus is giving a right to the world. Upon his authority he gives the world the right to judge whether you and I are born-again Christians on the basis of our observable love toward all Christians.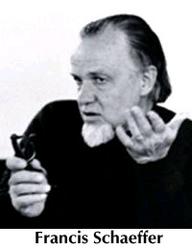 It was a startling statement that made me realize how vitally important our oneness really is. The truth is, the greatest obstacle to the gospel isn't lack of apologetic arguments about creation or resurrection, but the fact that the world isn't going to believe in Jesus if His followers are constantly fighting each other.

Twenty-eight years ago, when I was a young pastor, I was asked to attend a meeting designed to resolve a dispute between two Christian leaders. It was an eye-opening experience.

I saw one man, the younger one, who had perhaps made some mistakes, but was open and willing to admit responsibility and forgive and rebuild the relationship. But I also saw the coldness and the hardness in the older leader. I thought "I never want to become that man." God graciously fires warning shots over our heads, and He did that for me back then.

The name Peacemakers now appears in many of my book contracts. There's a clause stipulating that in the case of a dispute between publisher and author, we will not go to a secular court, but to the conciliation services of Peacemakers. I've never had such a dispute with a publisher and pray I never will, but if the worst ever happened, I would fully trust the biblically based arbitration services of this fine group.

I have seen too many conflicts and hurts, so many civil wars among pastors and churches and Christian ministries. I've seen the devastating toll it has taken, and how it has distracted from the cause of Christ who said "blessed are the peacemakers, for they shall be called the children of God." Peacemakers bear their Father's likeness. He came to reconcile us not only to Himself, but to each other.

I'm a father and a grandfather, and my biggest delight is to see my kids love each other and my grandchildren play well together. God wants us to play well together. I believe it breaks God's heart to see us fighting, and it should break our hearts.

That's why, at a time in my life when I have to say no to 99% of what I'm asked to do, I said yes to Peacemakers. I believe in their cause, because it is God's cause.