99 Balloons: Celebrating the Life of Eliot Mooney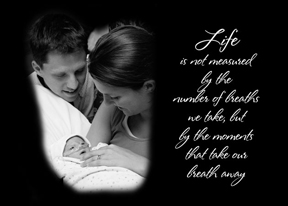 This is a story that I heard, but wanted more details on, so asked Stephanie to find them. I think you will be as touched by it as I was.

I first learned of Eliot Mooney maybe a year ago, but when someone else forwarded the video again recently, I thought it was time to feature it on this blog. What follows is the story of the Mooney family. Then you will want to watch the wonderful video put together by Eliot's father, Matt.

Proud parents Matt and Ginny couldn't have been more excited about the arrival of their first child, Eliot, on July 20, 2006. Just 12 days after Eliot's birth, Matt wrote, "We celebrate Eliot's life and the miracle God has given us in him each day at 4:59pm with a birthday party. Today he will be 12 days old!! Each day is amazing and we are loving being parents and seeing the many answered prayers."

Before Eliot was born, Matt and Ginny knew their precious baby had Trisomy 18. They knew that every day with Eliot was a gift.

Trisomy 18 syndrome, the second most common trisomy after Down Syndrome, is due to the presence of an extra #18 chromosome, meaning that the child has three chromosomes in the eighteenth position instead of the normal two. It occurs in about 1:5000 to 1:8000 births.

Unlike Down syndrome, Trisomy 18 is usually fatal, with most of the babies dying before birth and those who do make it to birth typically living only a few days. However, a small number of babies (<10%) live at least one year.


You can view the same video at http://www.youtube.com/watch?v=th6Njr-qkq0

A few days after Eliot's homegoing, his dad Matt read the following at a gathering that celebrated Eliot's life.
An underdeveloped lung. A heart with a hole in it. And DNA that placed faulty information into each and every cell of Eliot's body - could not stop the living God from screaming of Himself through a child who never uttered a word. To an outsider it may seem nothing short of foolish to credit all this teaching to Eliot, but I Corinthians says that…"the message of the cross is foolishness to those who are perishing, but to us who are being saved it is the power of God."

It goes on to say that God's wisdom is unlike ours and his tools are not what we would imagine. His tools are not the ones we would craft.

Not a pulpit. Not a slick presentation. Not a bestselling book. But a 6 lb. boy with Trisomy 18. God found great pleasure to take a lowly thing in the eyes of the world and show Truth.

...We encourage you today to not forget Eliot. To not forget whatever his sweet life taught you. Please go and do that which has been stirred in you through his life. And we look forward to hearing of the ripples he has made in eternity.
Thank you, and God bless you, Matt and Ginny. I can't wait to meet Eliot. If I get there before you do, I'll tell him of your ongoing love for him...but I'm certain he already knows.