Jim Harrell, Perspectives in Suffering, Part 2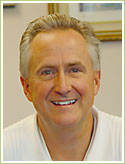 See my previous blog to learn a little about my friend Jim Harrell, who has ALS, and watch the five minute video that precedes this one.

Or, just go straight to the ten minute one below. I guarantee you, this ten minutes will bring more to your day than almost anything else. It's eternal perspective brought into a life through suffering, in God's gracious providence.

I'll post part three on Friday.
(Click here if you are unable to view the video.)